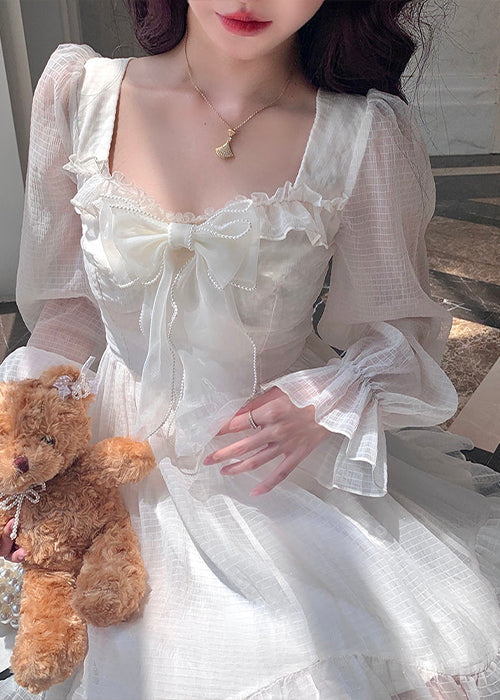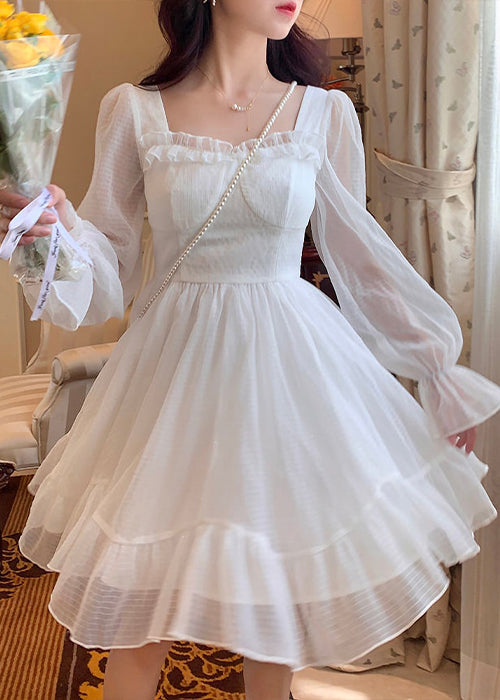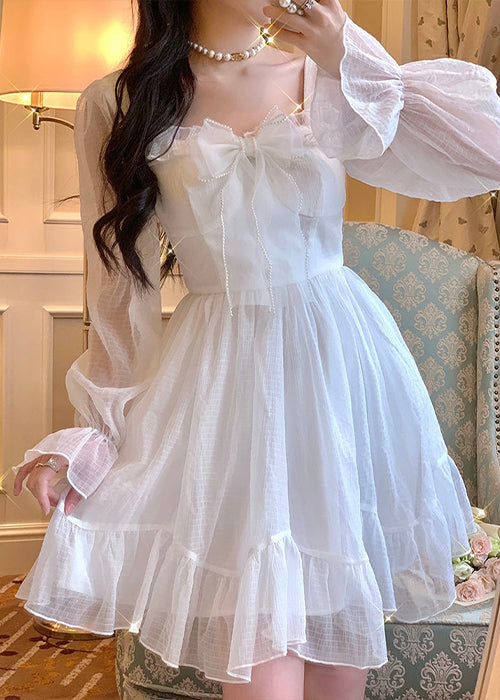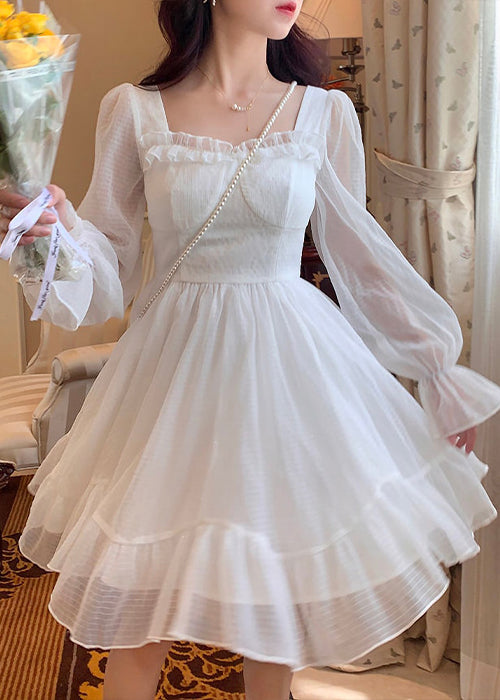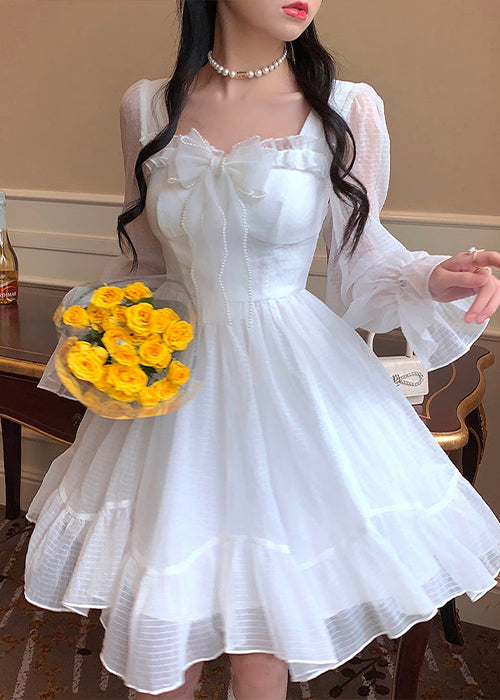 Y2K White Dress
✔️ Free and Secure Worldwide Delivery
💜-15% off with code BLACKMONTH15
Free
shipping
Customer
service
Secure
payment
Contact
us
Accompany your outfit with an aesthetic and sober garment thanks to this white Y2K dress
Soft, comfortable dressse you
Summer dress selection
Made of sturdy polyester
Attracts eyes like a magnet
Perfect for parties
Y2K White Dress: The Epitome of Timeless Chic for Summer
As a fashion expert, I must emphasize that the Y2K White Dress is the embodiment of timeless chic for the summer season. This exquisite long dress, tailored to perfection, is the epitome of chic that transcends trends and seasons.
The Y2K White Dress is not just any dress; it's a statement piece that encapsulates the essence of femininity. Its design is a harmonious fusion of classic and contemporary, making it suitable for various occasions, whether you're seeking a casual ensemble for a day out or a captivating look for an evening soiree.
This dress boasts a variety of styles, from the exquisite lace panel details to the flattering peplum silhouette that accentuates your curves. The Y2K White Dress offers you two distinct styling options: a long-sleeve or maxi dress perfect for any special event.
This Y2K White Dress displays ornate floral lace and shimmering sequin accents, providing a mesmerizing aesthetic. Its asymmetrical hemline completes the modern look. Create a stunning look for any special event. The cap-sleeve design and swing dress style are perfect for those who prefer a playful touch to their attire.
Moreover, this dress transcends traditional boundaries. While it's perfect as an elegant evening ensemble, it's equally suited for daytime wear. The iconic Y2K White Dress promises a chic look no matter the occasion. Wear it with sneakers for a casual feel or elevate the look with a pair of heels for date night. This versatile piece is a highly-coveted item in women's fashion.
Your Must-Have Wardrobe Staple This Season
For those in the know, fashion evolves with the seasons, and this season, the Y2K White Dress is undoubtedly your must-have wardrobe staple. It's not just any dress; it's the quintessence of timeless elegance and chic style for the contemporary woman.
Gone are the days when dresses for women were categorized into strict silhouettes and designs. The Y2K White Dress transcends such boundaries with its versatile offerings. Whether you prefer a classic sheath dress, an embroidered maxi dress, a lace-adorned midi dress, or a flirtatious mini-dress, this wardrobe staple has it all.
Femininity and captivating, the Y2K White Dress is a canvas for your individual style. The pleated chiffon and sequin accents add a touch of luxury, while the halter neckline and cap-sleeve details exude sophistication. This dress is the perfect addition to any outfit, from a beach day to dressy eveningwear. Its versatility allows you to transition seamlessly between events.
The Y2K White Dress is perfect for women who crave elegance and comfort simultaneously. Its swing dress style, lace panel details, and sequin embellishments add a unique flair, while the lace-up back allows you to adjust the fit to perfection.
The Y2K Dress features a long-sleeve cut and an asymmetric hem, creating a modern style. The maxi dress exudes grace, while the mini-dress showcases playfulness.
Flawless in Floral Chiffon: The Y2K White Dress
Indulge in the world of timeless elegance and effortless style with the mesmerizing Y2K White Dress. This exceptional piece not only redefines chic but also allows you to look positively flawless in floral chiffon. It's a fashion marvel that combines the best of classic and contemporary elements, making it a must-have for fashion-forward women.
The enchanting floral lace and delicate sequin embellishments on the Y2K White Dress add an air of sophistication and charm. Every intricate detail has been thoughtfully designed to make you stand out and make a lasting impression at any event. The dress is truly a canvas for self-expression, allowing you to showcase your individual style effortlessly.
The lace-up back, an intricate feature of this dress, serves both a functional and fashionable purpose. It not only ensures a perfect fit but also adds an element of allure, making your entrance as captivating as your exit. Whether you choose the long-sleeve or cap-sleeve version, you'll feel poised and confident in this attire.
The Y2K White Dress effortlessly transitions between different occasions. The asymmetrical hemline lends a contemporary touch, while the swing dress style guarantees comfort and fluid movement. It's equally suited for a leisurely summer evening out or a beachside celebration under the stars, guaranteeing you'll be the center of attention wherever you go.
In summary, the Y2K White Dress is not just a dress; it's an exquisite work of fashion art. Its versatility, intricate design, and captivating details make it the ultimate choice for women who want to look truly flawless in floral chiffon. Let this dress be your style statement and watch as it elevates your confidence and elegance to new heights.
Important things to know about this Y2K White Dress
Timeless Feminine Elegance: The Y2K White Dress embodies timeless elegance, showcasing the ultimate in feminine grace and style.
Versatile Lace Dress: It's not just a lace dress; it's a versatile masterpiece that effortlessly transitions from day to night.
Party-Perfect Attire: Whether it's a cocktail party or a formal event, the Y2K White Dress guarantees a stunning and stylish look.
Halter Dress Allure: The halter neckline adds a touch of allure, elevating your style for special occasions.
Chiffon Delight: Crafted in chiffon, this dress ensures comfort and a breezy feel, perfect for warm-weather affairs.
Dress Refined: The Y2K White Dress redefines the concept of dresses, offering versatility, elegance, and modern style.
Prom-Night Glamour: For a memorable prom night, the Y2K White Dress radiates timeless chic and sophistication.
Evening Elegance: Step into any evening event with confidence, thanks to the Y2K White Dress's exquisite design and allure.
Versatile Black Dresses: For lovers of black dresses, the Y2K White Dress introduces a fresh, elegant alternative to your wardrobe.
Lace Midi Dress Mastery: It's not just a midi dress; it's a lace midi dress that takes your style to new heights, blending tradition with a modern twist.
Long Sleeve Sophistication: The long sleeves add refinement and class, making it ideal for cooler evenings and formal gatherings.
Effortless Shift Dress: The Y2K White Dress is the ideal shift dress, allowing freedom of movement while maintaining a graceful silhouette.
Maxi Dress Allure: For those who adore the elegance of maxi dresses, the Y2K White Dress brings the same allure with a modern twist.
Playful Mini Dresses: If you prefer mini dresses, the Y2K White Dress offers a delightful blend of charm and timeless chic, making it a wardrobe essential.
Retro Chic Revival: The Y2K White Dress infuses a touch of retro charm into contemporary fashion, providing a unique and stylish look.