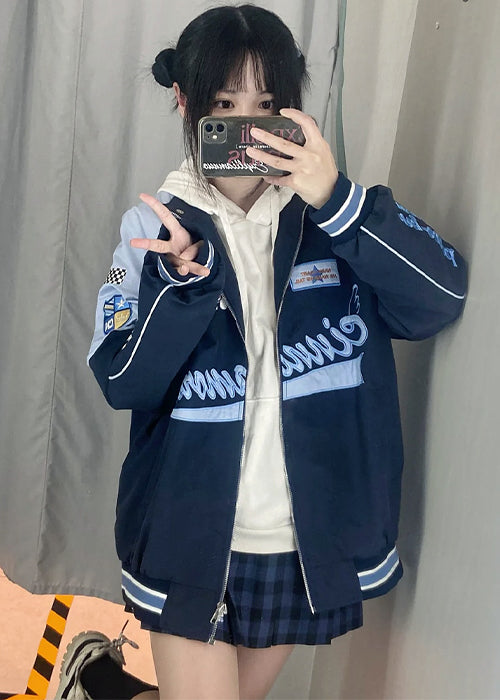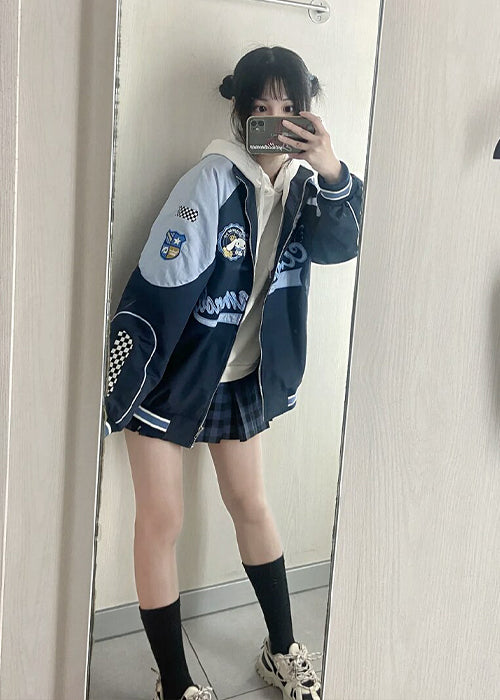 Y2K Tracksuit Jacket
✔️ Free and Secure Worldwide Delivery
💜-15% off with code BLACKMONTH15
Free
shipping
Customer
service
Secure
payment
Contact
us
Move with indescribable comfort and class thanks to this Y2K Tracksuit Set
Spring/Summer Collection
Indescribable freedom of movement

Unisex

loose-fitting jacket
Ultra-flexible polyester
Caresses the skin
Casual elegance: The way to wear a Y2K tracksuit ensemble
The Y2K tracksuit jacket is a trendy garment that has made a comeback in recent years. Indeed, its casual, sportswear style makes it a versatile choice for many occasions.

Complete your ensemble with sneakers and stand out with a tracksuit jacket featuring printed designs or zipper detailing. For a more sophisticated look, try slim-fit leather for him and fitted denim for her. Elevate the look further with a pair of ankle boots featuring heel trim for a bold, elegant touch.

Stay stylish and comfy with the Y2K tracksuit set. Create a feminine look by pairing the jacket with a slim denim skirt and pastel tee. Add a touch of sophistication with corduroy pants.
Tips and tricks for wearing this 2000s safety jacket
This tracksuit vest gives you a timelessly stylish look that melds modern and retro styles. For a modern, snug fit, select a slim or skinny cut. You'll also benefit from a variety of materials, like polyester and viscose, which are lightweight and comfortable.
Men should match the jacket with chino pants or straight-leg pants. Tracksuit jackets from the 2000s come in a wide array of colors, from classic navy blue, beige and khaki to bold, printed shades for a hint of playfulness. You can also go for a more elevated look by wearing a tracksuit jacket with a plain top and trousers.
Complete your Y2K look with the Tracksuit Set and accessorize with a belt to accentuate your waist, or complete your style with a beanie or cap. Layer with a cardigan or turtleneck underneath for a uniquely warm look Mix and match for endless style options. Make a fashion statement with this versatile tracksuit set.
Wear nostalgia on your shoulders with this jacket
The Y2K Tracksuit Set is a must-have item for any woman's closet. The range of silhouettes and designs it offers make it a versatile option for adding a unique, vintage touch to any outfit.

So, elevate your weekend look with the 2000s Tracksuit Set right now! Choose from navy or beige denim jackets with coordinating sneakers for the perfect combo of comfort and style. Add a feminine flair with a skirt.

For a dressier look, you can wear your jacket with tailored pants or slim-fit pants. Choose a fitted suit jacket for an elegant, sophisticated silhouette. Add a blouse or shirt with lace details or ruffles for an extra touch of femininity. Complete your ensemble with pumps or heeled ankle boots for a sophisticated look.
Reasons to choose this Y2K Tracksuit Set
Conversational element: People may notice and appreciate your retro style, which can lead to interesting conversations.
Compatible with Accessories: They go well with retro accessories like sneakers, caps and sunglasses, allowing you to create a complete look.
Stylish and Comfortable for Travel: They're perfect for air or car travel, offering both comfort and style while you're on the move.
Superior comfort: The materials used in Y2K tracksuits are often soft and comfortable, making them ideal for everyday use.
Easy care: They are generally easy to wash and care for, making them practical for regular use.
Assured comfort: High-quality materials guarantee optimum comfort all day long.