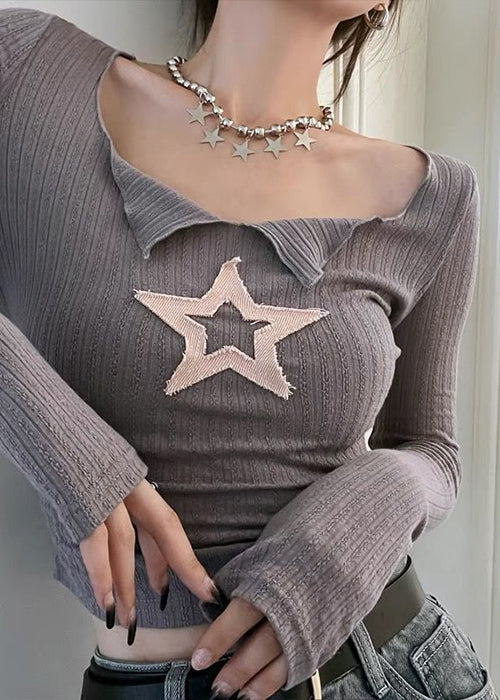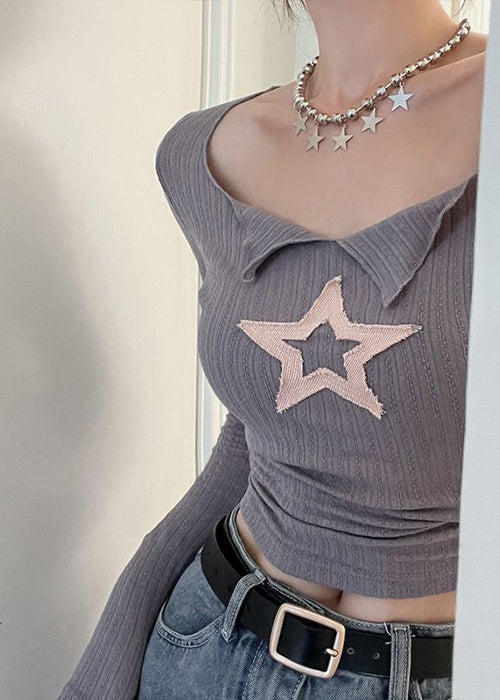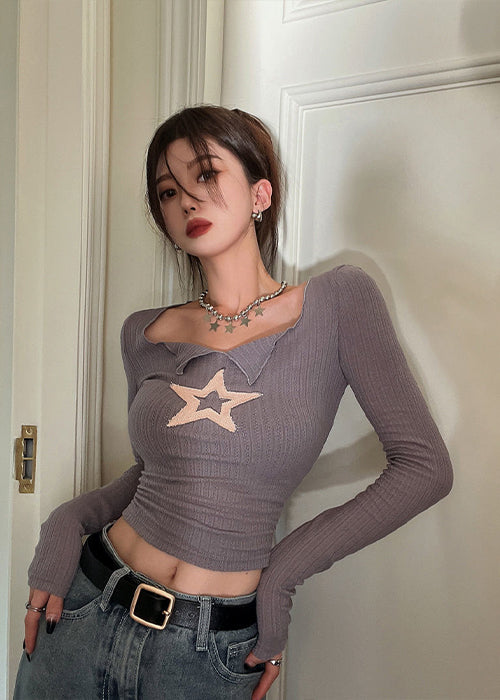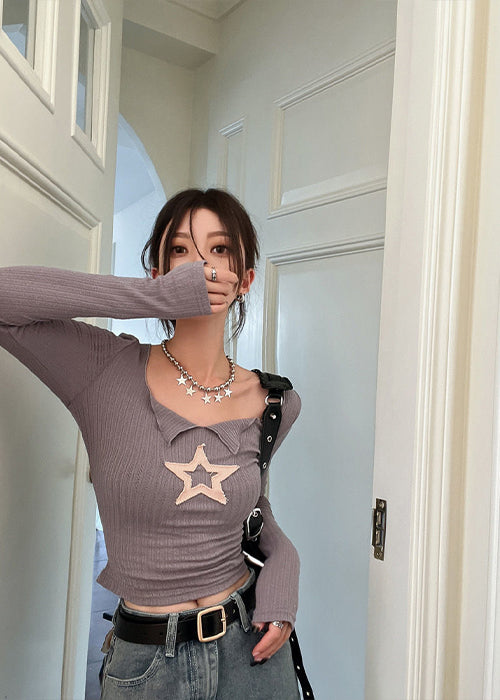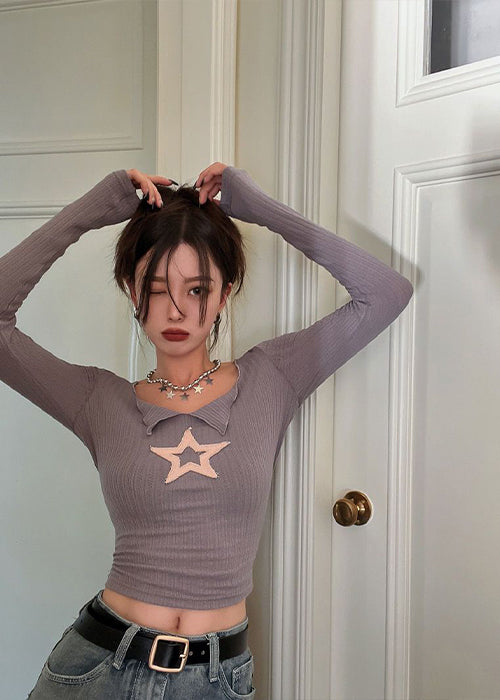 Y2K Star Shirt
✔️ Free and Secure Worldwide Delivery
💜-15% off with code LASTMONTH15
Free
shipping
Customer
service
Secure
payment
Contact
us
Impose your style of the day with this Star T-Shirt Y2K aesthetic and comfortable at the same time
Reinforced Polyester
Ultra-soft cotton
All season clothing
Unique design
Not available in physical stores
Shine bright in style: The Y2K Star Shirt phenomenon
As a fashion expert, I'm here to unravel the enigmatic allure of the Y2K Star Shirt, a phenomenon that has taken the fashion world by storm. This iconic piece is a shimmering testament to the celestial elegance of the 2000s.
Let's delve into the details that make it a radiant and stylish sensation, all while incorporating the essential keywords that define its charm. The 00s Star Shirt boasts a dazzling mock neck design, which adds an element of sophistication to your ensemble. This neck style provides the perfect frame for your face and exudes confidence.
The embroidered stars on the shirt elevate it from being a simple top to a celestial masterpiece. The stars add an artistic touch and create a starry night wherever you go. The Y2K Star Shirt offers versatile styling options. You can pair it with skinny jeans for a sleek and contemporary look, or go for an oversized fit for a relaxed, laid-back vibe. This shirt pairs perfectly with leggings for a fashionable and comfortable look.
This shirt pairs elegant design with superior comfort. Fabricated from plush, cozy fleece, it's suited to sports or casual clothing. The star motif pays homage to the early 2000s' space trend, making it an authentic symbol of 00s fashion. The Y2K Star Shirt is a style phenomenon that truly allows you to "shine bright" and make a fashion statement that's out of this world.
Wardrobe wizardry: Mixing and matching with the 2000s Star Shirt
As a fashion expert, I understand the art of mixing and matching to create the perfect outfit. The 2000s Star Shirt is a versatile canvas for your wardrobe wizardry, allowing you to craft unique looks for various occasions. Let's explore the magic of mixing and matching with this celestial piece while highlighting the essential keywords that define its charm.
The Y2K Star Shirt's hooded design adds a touch of urban chic to your look, making it an ideal choice for both casual outings and relaxed gatherings. For a preppy look, style Y2K Star Shirt with a plaid skirt. In warmer weather, pair it with denim shorts for more laid back style.
This shirt is a perfect overlay for a cropped top or a tee, allowing you to create dynamic layered looks. The short-sleeve Y2K Star Shirt is perfect for warm-weather looks, while the long-sleeve adds extra layers for chilly days. The 2000s Star Shirt's ribbed texture adds depth to your outfit, ensuring it stands out in a crowd. This Y2K Star Shirt offers both a striped and classic plain option for any wardrobe.
For a sleek and effortless aesthetic, team the Y2K Star Shirt with leggings. This ensemble is the perfect balance between style and practicality. With its versatility, you can concoct a range of looks - from a laid-back crewneck to a sophisticated cardigan. This top is definitely a magical addition to any closet!
Celestial elegance: 00s Star Shirt must-haves for every occasion
In the world of fashion, the 00s Star Shirt is the embodiment of celestial elegance. It's not just a piece of clothing; it's a must-have for every fashion-conscious individual. From casual outings to special events, this shirt is a versatile choice for all occasions. Let's explore why the 00s Star Shirt is the ultimate fashion essential, while emphasizing the keywords that define its charm.
The starry pattern adds a touch of whimsy to the shirt, making it an ideal choice for playful, casual occasions. It's a fantastic alternative to your usual crop-top or tee.
For a more formal setting, the 00s Star Shirt can be styled with a pair of skinny pants or a cropped cardigan, offering a sophisticated yet trendy ensemble. The V-neck design is perfect for showcasing your favorite necklaces and adding a touch of elegance to your look.
This shirt is available in various sleeve styles, from sleeveless options for warm weather events to long-sleeve versions for cooler days. It offers versatility that suits every season. Combine this top with a streamlined skirt for a tasteful combination, or opt for a casual-cool ensemble with a pair of hoodies and trainers for a modern look.
The 00s Star Shirt is a true representation of celestial elegance, offering a timeless charm that adapts to your unique style and every occasion in your busy life. It's a wardrobe must-have that allows you to shine bright no matter where you are.
Y2K Star Shirt: Your stylish companion for spring and summer
Versatile Silhouette: The Y2K Star Shirt offers a versatile silhouette that can be dressed up or down, making it perfect for various spring and summer occasions.
Retro Chic: Experience classic 2000s style with this vintage-inspired shirt that brings a nostalgic edge to any look.
Comfortable Knits: Made with lightweight knits, this shirt ensures optimal breathability and comfort in hot conditions.
Waisted Style: The shirt's waisted design complements your figure and creates an attractive and flattering look perfect for spring and summer.
Layering Versatility: Whether you're layering it with lightweight outerwear for cool spring evenings or wearing it as a standalone piece in the summer heat, the Y2K Star Shirt effortlessly adapts to your styling needs.
Mix and Match: Pair it with skirts and sandals for a chic and feminine spring look, or go for an activewear style with shorts and sneakers in the summer.
Fashion-Forward: This shirt is a fashion-forward choice that keeps you in tune with the latest spring and summer trends, be it for apparel or activewear.
Lingerie-Inspired: Channel your inner fashionista by layering it over lingerie or as a beach cover-up for a unique and daring spring and summer ensemble.
Hoodie Comfort: The Y2K Star Shirt offers the comfort of a hoodie while maintaining a fashionable edge, making it an excellent choice for staying stylish in the spring and summer.
Stripe Appeal: The striped design adds depth and visual interest to your outfit, ensuring you stand out in style during these sunny seasons.
Sweaters Reimagined: This shirt reimagines the concept of sweaters, offering a contemporary twist that sets you apart from the crowd in the warm weather.
Classic Crew-Neck: The classic crew-neck design is a timeless choice that adds sophistication to your spring and summer look.
Stylish Pullover: This top provides fashionable comfort throughout the warm seasons.
Womens Wardrobe Essential: This Y2K Star Shirt is a must-have for every woman's spring and summer wardrobe, offering a range of options from tees to lightweight jackets.
Floral-Print Flair: Some variations feature a floral-print design that adds a touch of femininity and flair to your spring and summer outfit.
Accessories Integration: The Y2K Star Shirt provides the perfect canvas for showcasing your favorite spring and summer accessories, whether it's sunglasses, watches, or beachwear.
Footwear Freedom: Pair it with your favorite spring and summer footwear, be it sandals for a casual beach look or wedges for a more sophisticated ensemble.
Sweats Sensation: Achieve a stylish summer sweats look by pairing it with shorts or activewear gear for a laid-back and comfortable vibe in the warm weather.