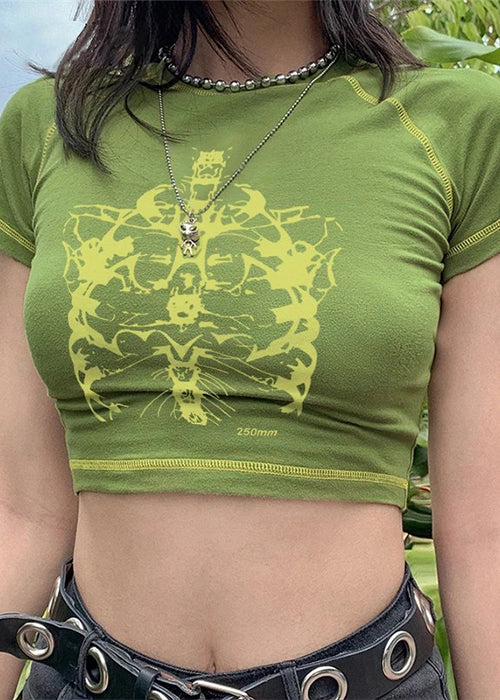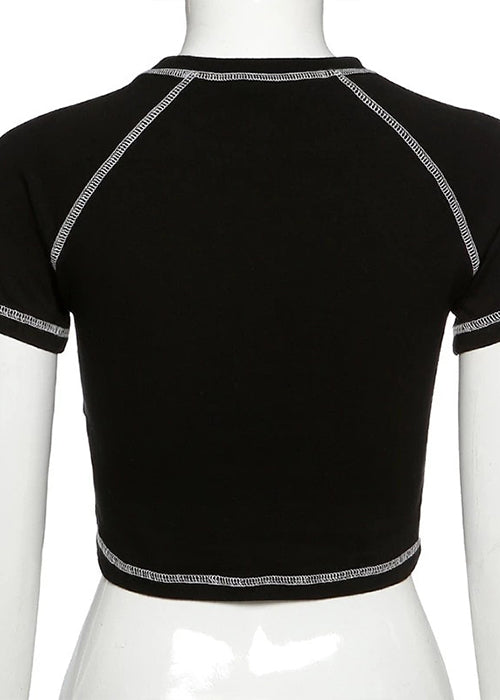 Y2K Skull Shirt
✔️ Free and Secure Worldwide Delivery
💜-15% off with code BLACKMONTH15
Free
shipping
Customer
service
Secure
payment
Contact
us
Dazzle the faces of everyone you meet wearing this Y2K Skull Shirt from the 2000s
Greater freedom of movement
Summer selection
Ultra-soft cotton
Reinforced polyester
Not available in physical stores
Y2K Skull Shirt: From retro vibes to modern chic
In the ever-evolving world of fashion, the Y2K Skull Shirt has made a remarkable comeback. Originally a symbol of the early 2000s, this iconic piece has seamlessly transitioned from a relic of the past to a modern wardrobe essential. With its distinctive skull motif, this blouse has been reimagined and styled in numerous ways, from casual to high fashion.
One of the versatile aspects of the 00s Skull Shirt is its adaptability. You can effortlessly pair it with a cardigan or layer it under blazers for a polished look. Sleeveless t-shirts provide airy comfort in summer, while long sleeved options provide warmth and style in cooler weather.
Embroidered skulls are a stylish way to customize any look, featured on garments like hoodies and sweaters and appealing to both genders. Completing the ensemble with personal flair is essential. Jeans, striped shorts, or even denim skirts can be matched with the Y2K Skull Shirt, creating a unique and timeless ensemble.
The Y2K Skull Shirt represents a combination of fashionable elements from the past and present. It's a statement piece that can be the eye-catching core of your wardrobe, available in both crew-neck and V-neck styles. Style it to create a look that is timeless and effortlessly chic.
Effortless glamour: Styling tips for the Y2K Skull Shirt
When it comes to effortless glamour, the 2000s Skull Shirt takes center stage in the world of fashion. With its timeless appeal and versatility, it's no wonder this piece has become a staple in many wardrobes. Here, we will explore some expert tips on how to style this iconic shirt for various occasions.
For a casual daytime look, pair your Y2K Skull Shirt with your favorite pair of jeans. Express yourself with this fashionable combination of the collarless shirt--available in long- or short-sleeve slim fit--and an accessory of your choice. Layer for extra warmth via cardigans or sweaters for a unique look.
The Y2K Skull Shirt is perfect for those who wish to radiate confidence and project a bold fashion statement. Wear it under blazers or lightweight outerwear, like jackets. The embroidered skull design adds a unique touch to any ensemble.
Ladies, explore the sleeveless options for a chic and breezy summer look, or go for the hoodies and sweatshirts for a laid-back vibe. Gents, the crew-neck and V-neck versions offer a range of options for your wardrobe.
With the Y2K Skull Shirt, there's no limit to the glamour and style you can achieve. It's a timeless piece that effortlessly adapts to your fashion preferences, making every day a fashion show.
2000s Skull Shirt: A symbol of individuality and confidence in fashion
The 2000s Skull Shirt has transcended its origins to become a symbol of individuality and confidence in modern fashion. This iconic piece has stood the test of time and remains a must-have in every fashion-savvy individual's wardrobe.
The appeal of the 2000s Skull Shirt lies in its versatility. It's not just a shirt; A versatile garment that can easily be incorporated into any wardrobe. The embroidered skull design adds a unique touch to any outfit, be it for men or women.
For a sleek and stylish look, opt for the slim-fit versions of this shirt. Style the Y2K Skull Shirt to your taste with either a crew-neck or V-neck option. Complement the look with denim jeans or shorts for a relaxed, yet well-assembled ensemble.
This shirt is more than just a piece of apparel; it's a symbol of confidence. It can be your go-to choice for various occasions, whether you're dressing up or keeping it casual. The Y2K Skull Shirt embodies the spirit of individuality, making it a timeless addition to your fashion repertoire. Embrace its unique charm and make it your own.
Things to know before you add this Y2K Skull Shirt to your outfit
Versatility: The Y2K Skull Shirt effortlessly transitions from casual to chic. Whether it's a woven tunic style or a classic crewneck, it's a perfect choice for a wide range of occasions.
Comfort: Crafted from high-quality materials like polyester, this shirt ensures comfort throughout the day. Lightweight, breathable fabric perfect for warm weather, making it perfect for spring and summer wardrobes.
Stylish Details: The Y2K Skull Shirt features stylish elements such as cuffs, offering a touch of sophistication to your outfit. This is not just a shirt; it's a fashion statement.
Endless Pairing Options: You can pair this shirt with anything from joggers to skinny jeans, creating a variety of looks. Whether you're into activewear, leggings, or even a tank-top, this shirt complements your style effortlessly.
Iconic Design: The skull motif on the Y2K Skull Shirt adds a unique and eye-catching touch to your ensemble. It's a piece that's bound to turn heads and spark conversations.
Gender-Inclusive: Available in options for both men and women, it promotes inclusivity in fashion. Whether you're shopping for yourself or a loved one, there's a Y2K Skull Shirt for everyone.
Layering Potential: With the long-sleeve version, you can layer it under coats, vests, or even button-down shirts. This shirt is a versatile addition to your layering game.
Individual Expression: Embrace your personal style with the Y2K Skull Shirt. It's more than just a shirt; it's a canvas for you to express your unique fashion sense.
Timeless Appeal: The Y2K Skull Shirt combines the best of retro and modern fashion. Its timeless appeal ensures it won't go out of style any time soon.
Seasonal Transition: This shirt isn't just for summer – it's an excellent choice for spring as well. Whether it's a lightweight hoodie or a plaid sweater, the Y2K Skull Shirt keeps you stylish and comfortable during those transitional months.
Hat-Friendly: If you're a hat enthusiast, the Y2K Skull Shirt pairs well with various hat styles, from baseball caps to wide-brimmed sun hats, enhancing your overall look.