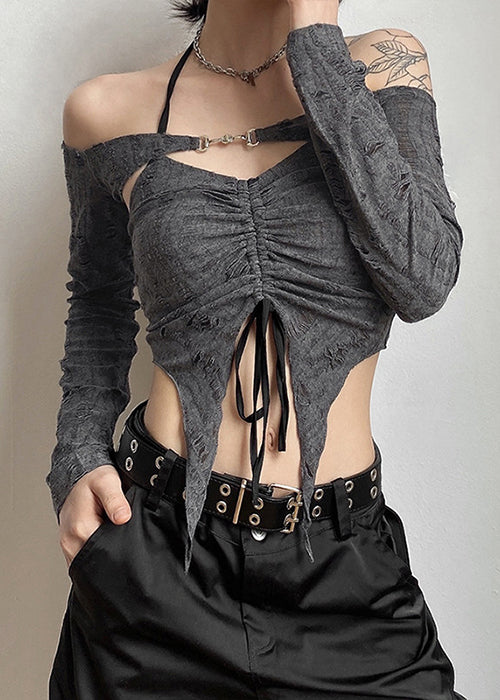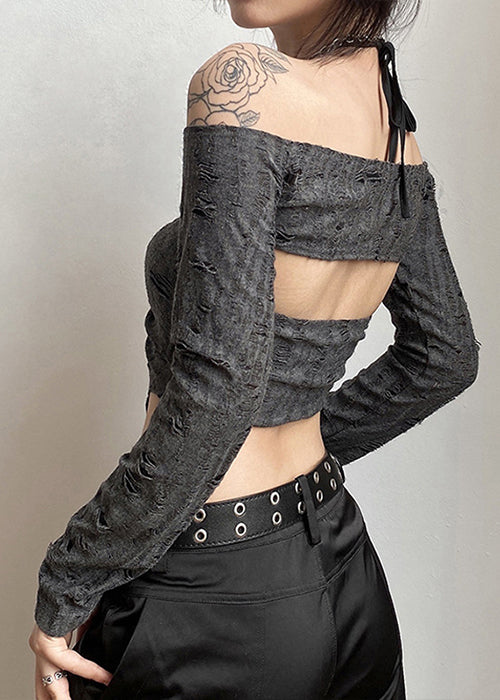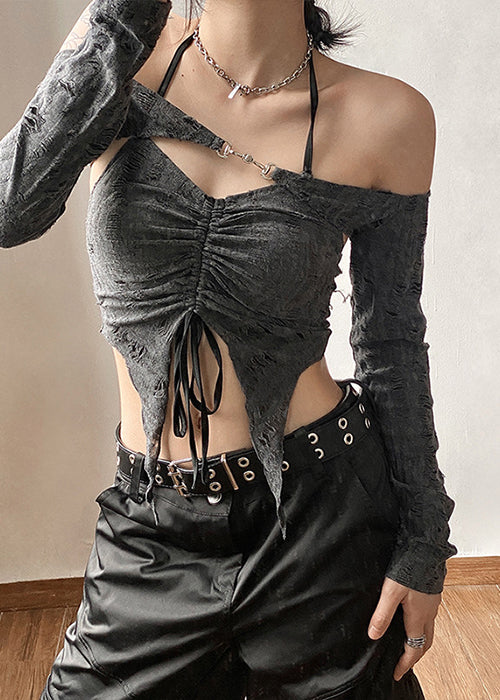 Y2K Grunge Top
✔️ Free and Secure Worldwide Delivery
💜-15% off with code BLACKMONTH15
Free
shipping
Customer
service
Secure
payment
Contact
us
Perfume your clothes with a soft, unyielding aura thanks to this dark Y2K Grunge Top
Comfortable top
Emo/Goth fashion in the 2000s
Freedom of movement
Reinforced polyester
Ultra-soft spandex
How to incorporate the Y2K Grunge Top into your contemporary wardrobe
The Y2K Grunge Top is perfect for fashion lovers. Crafted from a spandex-polyester blend in a gray hue, this classic garment merges vintage and modern style, imparting endless wardrobe possibilities. Here, we'll explore how to seamlessly incorporate this staple into your modern closet.
For an elegant and alluring look, consider the off-the-shoulder Y2K Grunge Top. Pair it with high-waisted bottoms to accentuate your waist and create a balanced, stylish appearance. This neckline provides a sophisticated appeal, perfect for multiple occasions.
The versatile bodysuit variation of the Y2K Grunge Top is a sleek and chic option. This top seamlessly complements leggings, shorts, or skirts, making it a great option for relaxed or dressed-up occasions. It adds a fashionable touch to your silhouette.
During sunny days, a short-sleeve Y2K Grunge Top in gray spandex-polyester offers both comfort and style. It's perfect for pairing with denim jeans, creating a laid-back yet fashionable ensemble that's perfect for a day out.
Layering is key to creating diverse looks. Consider adding a cardigan over your Y2K Grunge Top for a cozy and stylish effect. This combination works well with both long and short-sleeve variations of the top, allowing you to adapt to changing weather and occasions.
Opt for a cropped Y2K Grunge Top if you're aiming for a trendy and youthful appearance. Match it with high-waisted skirts or jeans to highlight your figure and stay in vogue. This look is perfect for those who love to keep up with the latest fashion trends.
Y2K Grunge Tops featuring intricate embroidery make any look stand out. Perfect for pairing with denim jeans, striped skirts, or knit sweaters, this style adds an artistic touch to any ensemble.
Unearthing the 2000s Grunge Top in Gray spandex-polyester
Fashion has a fascinating way of reinventing itself, and the Y2K Grunge Top, with its composition of gray spandex-polyester, is a testament to this enduring trend. This piece harks back to the rebellious and eclectic styles of the early 2000s, and it's making a triumphant comeback in today's fashion scene. Let's delve into the details that make this top an intriguing and versatile choice, highlighting the essential keywords that define its appeal.
The Y2K Grunge Top often features a distinctive halter neckline, which adds a touch of sophistication while exposing your shoulders for a hint of sensuality. This unique neck design makes it an ideal choice for a night out, offering an alluring allure that's hard to resist. Style with jeans, leggings, or skirts for a stylish ensemble for any occasion.
Y2K Grunge Top features a textured spandex-polyester fabric to add depth and character. The ribbed texture provides both tactile and visual appeal, creating a unique and versatile look with any bottoms - jeans, shorts, or skirts.
Revisiting the Y2K Grunge Top is akin to discovering a fashion artifact from the start of the millennium. Its blend of sophistication, sensuality, and the timeless appeal of gray spandex-polyester creates an undeniable allure. Whether you're seeking a nostalgic touch or giving it a modern twist, this top is a versatile piece that deserves a place in your contemporary wardrobe.
This stylish resurgence, with its sophistication and sensuality, seamlessly integrates the iconic elements of the early 2000s into your modern fashion repertoire. The Y2K Grunge Top is an ideal pick for formal or casual looks, crafted from a spandex-polyester blend. Its gray hue ensures you look fashionable and current. It's a testament to the timeless appeal of fashion that continues to captivate fashion enthusiasts across the decades.
Exploring Y2K Grunge Chic: The stylish appeal of Goth Y2K fashion

In the realm of fashion, certain trends have the remarkable ability to transcend time. The Y2K Grunge Top, crafted from gray spandex-polyester, is one such timeless gem. This garment seamlessly melds the rebellious spirit of the early 2000s with the modern chic of today. Let's delve into the elements that make it so undeniably stylish and appealing, highlighting the essential keywords that define its charm.
The Y2K Grunge Top's charm begins with its halter neckline, a feature that exudes sophistication and sensuality. This neck design instantly draws attention to your shoulders, adding an element of allure to your outfit. Complete your look with jeans, leggings, or skirts for a statement-making ensemble ideal for both day and night.
This Y2K Grunge Top is made of a spandex-polyester material with a captivating ribbed texture. The ribbing provides dimension and texture to this top, enabling wearers to tailor a stylish ensemble with jeans, shorts, or skirts. Its versatility allows for unlimited fashion combinations.
The Y2K Grunge Top is more than just a piece of clothing; it's a statement of style. This chic and trendy garment boasts the perfect blend of nostalgia and contemporary appeal. Whether you're embracing the iconic look of the early 2000s or putting a fresh, modern spin on it, the Y2K Grunge Top in gray spandex-polyester is a versatile piece that deserves a place in your fashion arsenal.
This top offers a chic blend of sophistication and sensuality in timeless gray spandex-polyester. Its versatility lets you express your style with a retro-modern look. It's an eye-catching addition to any wardrobe, perfect for everything from special occasions to everyday wear.
Why the 00s Grunge Top is a must-have for spring and summer
Versatile Style: The Y2K Grunge Top seamlessly transitions from casual to chic, making it suitable for a wide range of occasions.
Comfortable Fabric: Crafted from soft and breathable materials, this top ensures comfort even on the hottest days.
Endless Pairing Options: Whether you opt for sandals, sneakers, or heels, the Y2K Grunge Top pairs effortlessly with a variety of footwear.
Layering Possibilities: You can layer it over a tank top for added style or wear it as a long sleeve crop top for a trendy look.
Cropped Elegance: The cropped design exudes a modern charm, perfect for embracing the sun.
Swimwear Cover-Up: Ideal for the beach or pool, the Y2K Grunge Top doubles as stylish swimwear or beachwear cover-up.
Loungewear Chic: Stay comfortable and fashionable while lounging with this versatile piece.
Effortless Outerwear: It works as a lightweight outerwear option for cool summer evenings.
Diverse Sleeve Styles: Whether you prefer sleeveless, short-sleeve, or long-sleeve tops, the Y2K Grunge Top has you covered.
Women's Wardrobe Essential: This top is a must-have for every women's closet, offering a range of options from tank tops to graphic tees.
Chic Blouse: It can be dressed up as a trendy blouse for a night out or a special event.
Effortless Sweatshirt: The relaxed fit is perfect for creating a comfortable yet stylish sweatshirt ensemble.
Timeless Crew-Neck: The classic crew-neck design stands the test of time, ensuring a long-lasting style.
Tunic Versatility: It can be worn as a trendy tunic over shorts or leggings.
Appealing Sleeveless Variations: For warmer days, the sleeveless options provide a cool and chic solution.
Stripe and V Neck Styles: Choose from a variety of patterns and necklines to suit your personal taste.
Summer Shirts: The Y2K Grunge Top serves as a fashionable choice for your summer shirts collection.
Crop-Top Trend: Embrace the crop-top trend in the most stylish way possible.
Casual Tees: It can be your go-to choice for comfortable and chic tees.