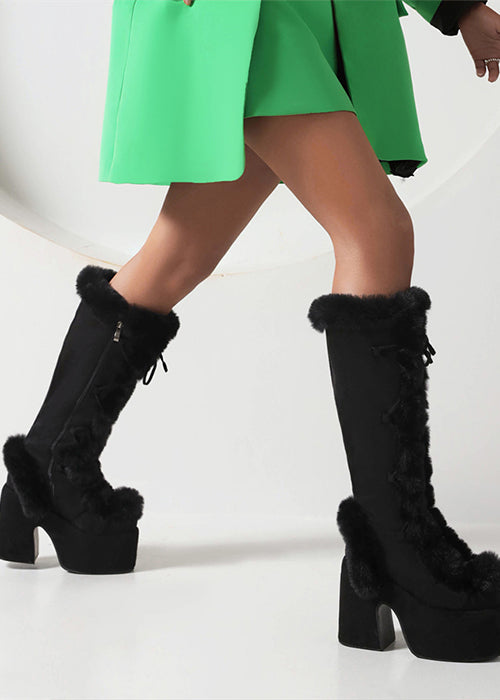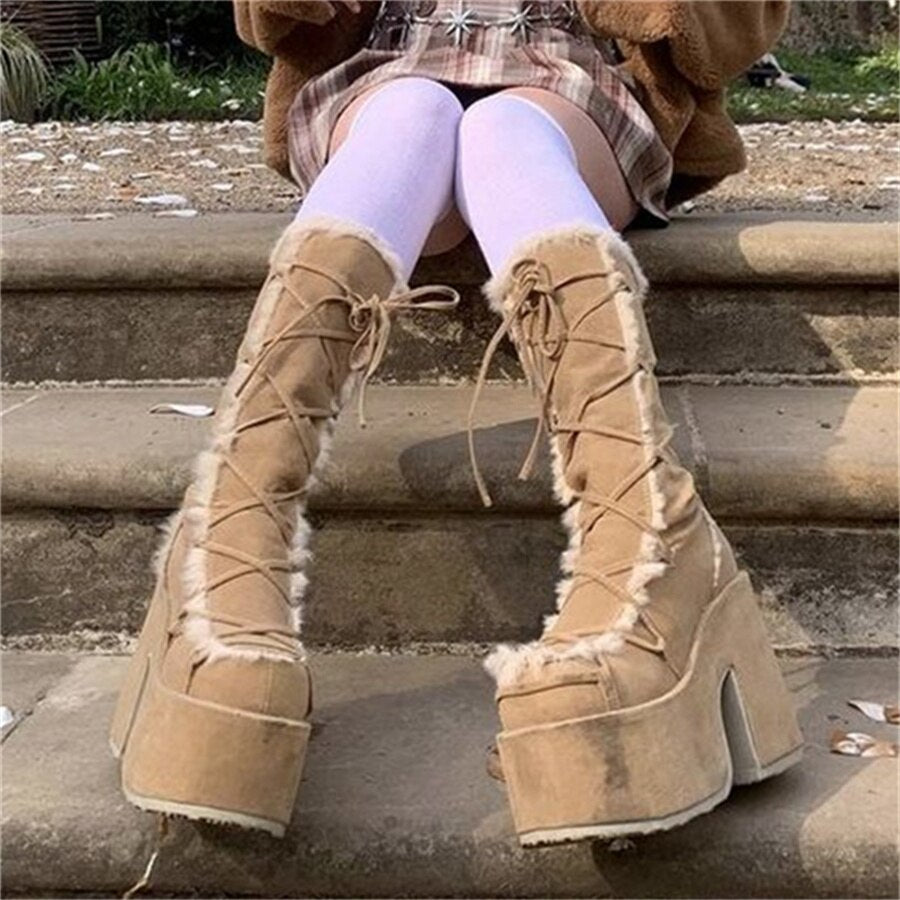 Y2K Fur Boots
✔️ Free and Secure Worldwide Delivery
💜-15% off with code BLACKMONTH15
Free
shipping
Customer
service
Secure
payment
Contact
us
Upgrade your outfit for the day with these Y2K Fur Boots
Faux fur of the day
Not available in local stores
Super-soft and comfortable
Three editions of the day
Super soft and elegant
Winter wonderland chic: Unleashing the glamour of Y2K Fur Boots
Ladies, get ready to turn heads this winter with the epitome of elegance and style - Y2K Fur Boots. These boots are the ultimate fashion statement for the season. Crafted with precision and adorned with faux fur, they effortlessly blend vintage vibes with modern sophistication. Various styles of the 2000s Fur Boots are available to accommodate all tastes, such as wide calf and lace-up boots.
Whether you're a fan of high heel boots or prefer the comfort of flat boots, these Y2K Fur Boots offer an alluring selection of designs. The quilted patterns and the chic taupe color add a touch of exclusivity to your ensemble, making them perfect for a night out on the town.
Faux suede provides a fashionable look for these versatile boots.Zipper closures and buckle details make them easy to wear, with both chunky and low-heeled design options creating a balance between comfort and contemporary aesthetics. So, strut your stuff in these iconic boots, and let the world know you're all about sophistication and winter glamour!
Faux Fur Delight: Elevate your style with 2000s Fur Boots
Elevate your fashion game with the mesmerizing allure of 2000s Fur Boots. These boots are a true delight for fashion enthusiasts who crave style and warmth. In the realm of women's boots, these Y2K Fur Boots are leading the pack with their unique blend of fashion and function.
If you're into knee high boots or prefer the elegance of ankle boots, there's a style to suit every preference. The faux fur details offer a touch of luxury, while the zipper and lace-up options ensure a secure and snug fit. These boots are available in black for a timeless and sophisticated look, perfect for women who appreciate classic fashion with a twist.
Whether you choose high boots with a wedge heel or opt for the chic appeal of calf boots, these boots provide the versatility you need to create a stylish winter ensemble. So, indulge in the faux fur delight of 2000s Fur Boots and showcase your impeccable taste in fashion this season!
Vintage vibes: Y2K Fur Boots make a bold fashion statement
Ladies, it's time to make a bold fashion statement with the timeless appeal of Y2K Fur Boots. These boots are not just about keeping your feet warm but about embracing the vintage vibes with unmatched style and glamour. As a staple in women's footwear, these boots offer a diverse range of choices to suit your unique preferences.
Featuring high-grade components, 2000s Fur Boots come in a variety of styles, from classic tall boots to modern ankle booties, suitable for any event. The chic faux fur designs, detailed with lace-up accents and mid-calf options, bring an unforgettable aesthetic.
These Y2K Fur Boots come in classic colors like taupe and black, providing a sophisticated complement to your ensemble. Y2K Fur Boots provide options for any style—high heels for a glamorous look and low heels for comfort. Feel confident in your style and let your vintage flare show! Your bold fashion statement awaits!
Transform your winter look with Y2K Fur Boots
Winter Elegance: Y2K Fur Boots exude elegance, making them the perfect choice for adding a touch of sophistication to your winter wardrobe. Y2K Fur Boots provide a perfect balance of style and insulation for winter.
Versatile Chic: Also, these Fur Boots provide a vast selection of heels, from low to wedged, to complete any look. Jeans, skirts, or dresses--the possibilities are endless.
Weather Resistant: Y2K Fur Boots are not just a fashion statement; they are practical winter boots designed to keep your feet cozy and warm. From the flurries of snow to the biting cold, these boots are up for the challenge.
Luxurious Fur: The rabbit-fur trim on Y2K Fur Boots adds a luxurious touch that elevates your winter ensemble. The fur trim is both functional and aesthetically pleasing, making you stand out from the crowd.
Timeless Appeal: Y2K Fur Boots have a classic yet contemporary design, making them suitable for any occasion, whether you're heading to the office or stepping out for a night on the town. 
Cozy Comfort: There's nothing like slipping into a warm and comfy pair of Y2K Fur Boots when the temperature drops. These boots offer a perfect combination of fashion and ease, enabling you to appear and feel amazing.
Stylish Complement: Pair your Y2K Fur Boots with your favorite jackets, sweaters, and other outerwear to create a complete winter look that's both cozy and chic.
Incredible Variety: Y2K Fur Boots are available in a range of colors, from classic black and white boots to more adventurous options. These boots cater to the individuality and preferences of all women who seek fashionable footwear.
Fashion-Forward Choice: Make a fashion statement by checking out the latest collection of Y2K Fur Boots. These boots are designed for the modern woman who values style and comfort, combining the best of both worlds in one exquisite package.