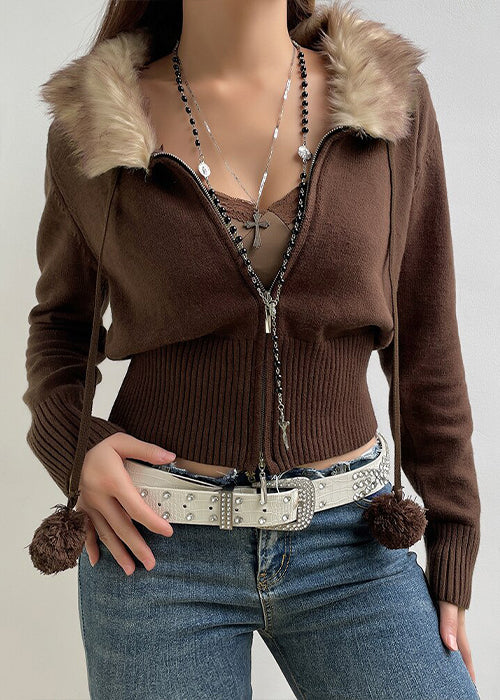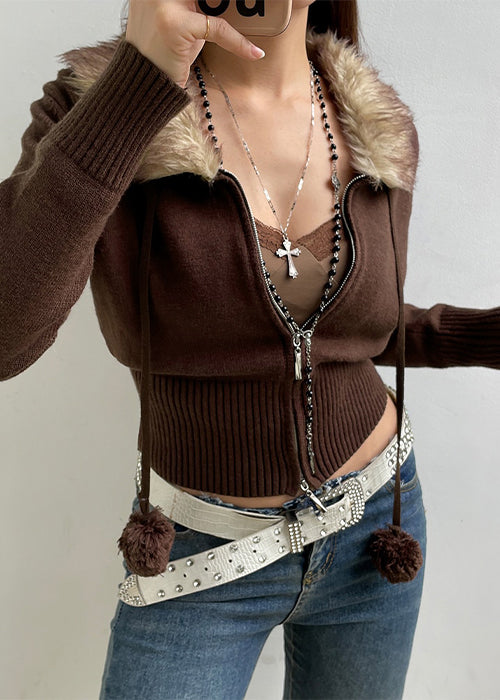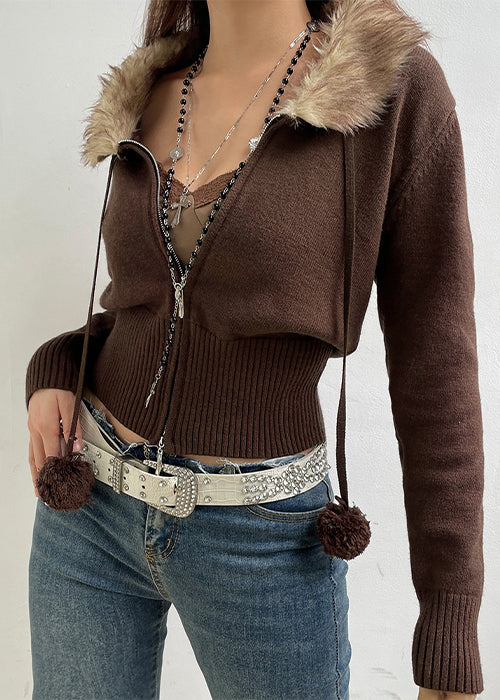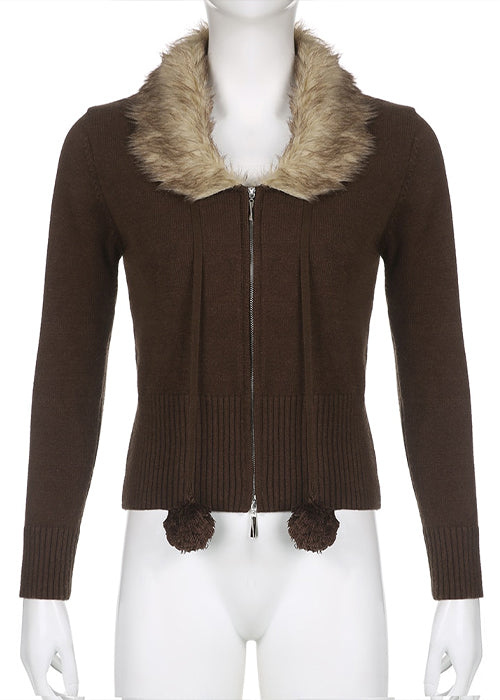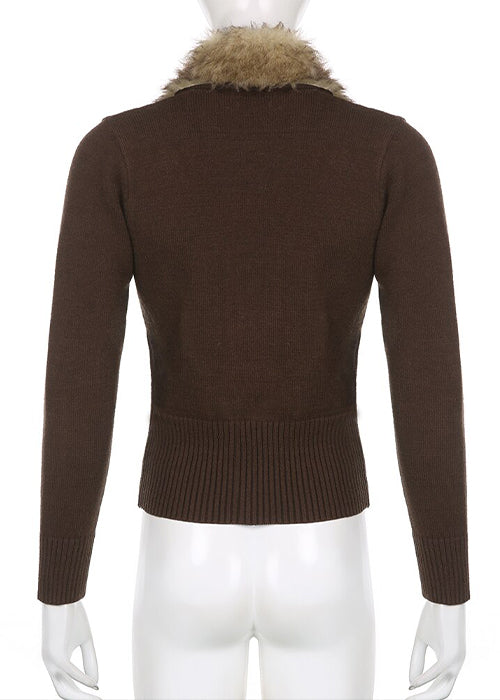 Y2K Fluffy Cardigan
✔️ Free and Secure Worldwide Delivery
💜-15% off with code BLACKMONTH15
Free
shipping
Customer
service
Secure
payment
Contact
us
Impose a standout look, straight from the 2000s with this Y2K Fluffy Cardigan
Imposes an elegant yet aesthetic look
Caresses the skin from within
Matching necklace for all outfits
Autumn Selection
Pleasant to wear
Unveiling the Y2K Fluffy Cardigan: The ultimate must-have for cozy chic fashion enthusiasts
In the ever-evolving world of fashion, there's a classic making a triumphant return – the Y2K Fluffy Cardigan. This piece is more than just a sweater; it's an embodiment of cozy chic style. If you're a fashion enthusiast looking for the perfect balance between comfort and trendiness, you're in for a treat. The Y2K Fluffy Cardigan has taken the fashion world by storm, offering a nostalgic yet modern flair that's hard to resist.
The Y2K Fluffy Cardigan is an extremely flexible addition to any wardrobe. Its fitted shape is suitable for any occasion, whether it's a warmer climate or a cooler evening - both sleeveless and long-sleeve versions are available. Let's delve into the details and explore how this iconic piece can elevate your fashion game this season.
How to rock the 2000s Fluffy Cardigan Trend: Styling tips and inspiration
Are you ready to embrace the resurgence of the 2000s Fluffy Cardigan trend with confidence and style? This fashion sensation is creating a buzz, and it's time to make it your own. In this comprehensive style guide, we provide essential tips and a wealth of inspirational ideas to help you master this trend effortlessly.
Explore the range of cardigans to find the ideal fit for your individual aesthetic. Try wearing it with maxi dresses as part of a layered ensemble, or add a splash of retro charm with a plaid skirt. We cover it all, from casual shorts to elegant heels. There's a Fluffy Cardigan ensemble for every occasion, allowing you to express your individuality and make a bold fashion statement. Elevate your style and become a fashion authority with this Y2K Fluffy Cardigan.
Embrace winter with flair: 00s Fluffy Cardigan outfit ideas for every occasion
As winter approaches, it's time to infuse your wardrobe with warmth, style, and versatility. The 00s Fluffy Cardigan is your perfect companion, offering an ideal blend of fashion and comfort. In this article, we present a carefully curated collection of outfit ideas for every occasion.
Explore the beauty of layering, from pairing your cardigan with cozy long-sleeve tees and jeans for a casual look to elevating your style with elegant midi dresses complemented by sleeveless cardigans. Discover a variety of outfit combinations with Y2K Fluffy Cardigan - from pairing with crop-tops and denim jackets to creating beautiful, timeless looks. Feel confident to rock this fashionable piece to any social occasion, and stand out from the crowd with its classic design and modern trend-setting style. Embrace winter with flair and stay chic throughout the season.
Things to know about this Y2K Fluffy Cardigan
Versatile Wardrobe Essential: The Y2K Fluffy Cardigan is a versatile wardrobe essential that effortlessly pairs with skirts, knit ensembles, skinny jeans, and leggings, making it a go-to choice for a wide range of outfit combinations.
Cinches at the Waist: This cardigan accentuates the waist, creating a flattering silhouette that is both chic and comfortable, allowing you to look stylish without compromising on coziness.
Ultimate in Cozy Chic: The Y2K Fluffy Cardigan combines the best of both worlds, offering the warmth of sweaters and coats while infusing a vintage charm with its fur-like texture, adding a touch of retro glam to your outerwear collection.
Plush and Fluffy Appeal: The fluffy texture of this cardigan provides unparalleled comfort and a luxurious feel, making it the perfect choice for staying cozy on chilly days while exuding a sense of opulence.
Unmatched Layering: Layer it over your favorite sweaters, coats, and knit tops to create a fashion-forward look that keeps you snug without compromising on style. It's a layering dream come true.
Stylish Footwear Compatibility: From sneakers to sleek shoes, the Y2K Fluffy Cardigan pairs perfectly with various footwear options, ensuring your entire outfit is on point, whether you're going for a casual or more formal look.
Timeless and Vintage Flair: This cardigan carries a vintage-inspired aura, adding a timeless touch to your ensemble, which sets you apart from the crowd while making a lasting fashion statement.
Cozy Outerwear Companion: When it comes to outerwear, this cardigan shines with its plush and fluffy appeal, offering the perfect alternative to traditional coats, making it a must-have in your winter wardrobe.
Stay Warm and Fashionable: Embrace the fall and winter seasons with the Y2K Fluffy Cardigan, ensuring you stay warm and fashionable without sacrificing comfort. It's your secret weapon for braving the cold while looking effortlessly chic.
Endless Styling Possibilities: With this cardigan, your styling possibilities are virtually limitless. From day to night, casual to formal, it adapts seamlessly, allowing you to express your unique fashion sense with flair.