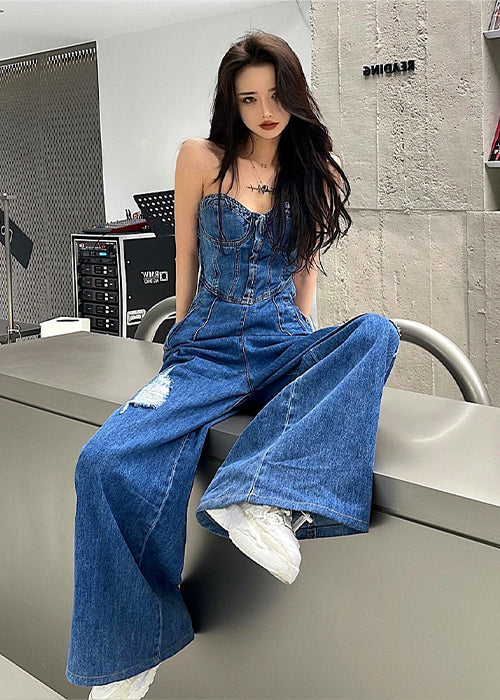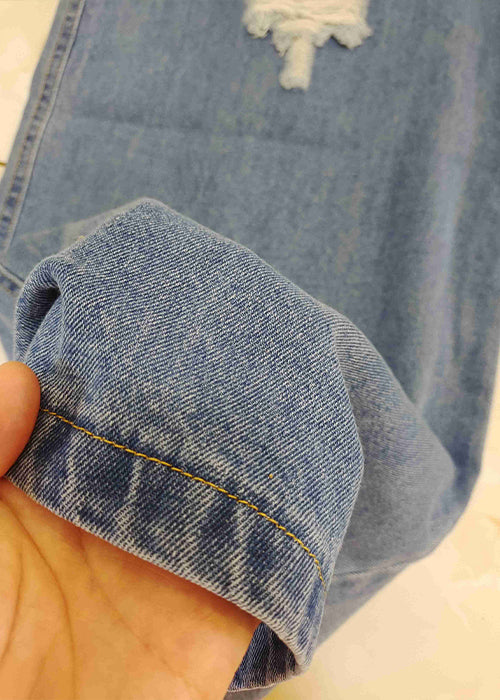 Y2K Denim Jumpsuit
✔️ Free and Secure Worldwide Delivery
💜-15% off with code LASTMONTH15
Free
shipping
Customer
service
Secure
payment
Contact
us
Slip into aestheticism in person with this Y2K Denim Jumpsuit from the 2000s
Gives an irresistible look

Impose an attraction around you

Both elegant and comfortable

Reinforced materials (polyester)

Spring/Summer selection
The Origins of the Y2K Denim Jumpsuit: A Dive into Fashion History
The Y2K Denim Jumpsuit, a remarkable garment with a storied past, has reclaimed its place in the modern fashion landscape. To truly appreciate its significance, let's embark on a captivating journey through the history of this iconic piece. The Y2K Denim Jumpsuit boasts a vintage-style bodice, inspired by traditional denim dungarees and crafted by expert fashion designers.
This strapless jumpsuit exudes a timeless charm, drawing inspiration from dark denim fabric and distressed denim accents, conjuring a sense of nostalgia. Its bootcut legs and pleated detailing add a touch of flair, making it suitable for a variety of occasions. The Y2K Denim Jumpsuit perfectly encapsulates the allure of vintage denim, seamlessly blending the best of the Y2K era with contemporary fashion sensibilities.
During its inception, the Y2K Denim Jumpsuit was a bold and innovative creation, reflecting the ever-evolving nature of style. Honor denim overalls' heritage and confidently step into future fashion with this iconic garment.
Reinvent your style with the Y2K Denim Jumpsuit: Fashion Tips
Looking to revamp your wardrobe and make a lasting impression? The Y2K Denim Jumpsuit is your ticket to achieving a chic and versatile look. With its zipper front and cropped legs, this piece is a game-changer in the world of jumpsuits. It's not just about the jumpsuit; it's about redefining your style.
To start, consider pairing your Y2K Denim Jumpsuit with a range of complementary vests, sweaters, or even coats to create diverse looks suitable for various seasons. Experiment with different skirts or leggings underneath to find your unique twist on this fashion favorite. The Y2K Denim Jumpsuit offers a wide range of styling options, enabling wearers to go from casual occasions to more formal events with ease and minimal styling modifications.
For a classic silhouette, opt for the Y2K Denim Jumpsuit in a slim-fit design. This jumpsuit will give you a stylish silhouette while bringing classic denim style. Alternatively, choose the wide-leg style for a more current aesthetic.
This guide will provide expert fashion tips for styling your Y2K Denim Jumpsuit, and ensure your look stays current with today's trends.
Embracing the Y2K Denim Jumpsuit in contemporary fashion
The Y2K Denim Jumpsuit, once a staple on fashion runways, has seamlessly transitioned into everyday wear, becoming a beloved piece in the wardrobes of style-conscious individuals. Its journey from haute couture to street style signifies the enduring charm of this garment.
Originally designed as a fusion of jumpsuits and denim jeans, this versatile outfit has since evolved to offer a range of styles, from playful shorts to elegant dresses. The Y2K Denim Jumpsuit bridges the gap between swimwear and jackets, providing a fashion solution for various occasions.
This classic jumpsuit offers a perfect blend of comfort, class, and nostalgia. Its detailed cutouts and zippers allow unique expression. Its modern design assures timelessness. As we honor the return of this iconic garment, we'll examine its prominent role in modern fashion and provide advice for including it in any setting, from leisurely activities to formal functions.
Y2K Denim Jumpsuit: A versatile wardrobe essential for all seasons
Jeans Denim Elegance: The Y2K Denim Jumpsuit is the epitome of timeless style, featuring the classic look of jeans denim in a one-piece ensemble.
Stretch Denim Comfort: With its stretch denim, this jumpsuit ensures day-long comfort, allowing you to move with ease.
All-Season Blue Denim: Blue is an eternal color, and the Y2K Denim Jumpsuit's hue seamlessly suits all seasons, from the freshness of spring to the warmth of summer.
Winter-Ready in White: Opt for a white Y2K Denim Jumpsuit for winter, and let its versatility and elegance stand out in the snow.
Summer Chic with Culottes: The culottes style of this jumpsuit keeps you cool during hot summer days, making it a must-have for your vacation wardrobe.
Halter Jumpsuit Sophistication: The halter jumpsuit design adds a touch of sophistication, perfect for formal events in any season.
Oversized Comfort: Whether you're layering it with sweaters in winter or keeping it light in summer, the oversized design offers comfort and style.
Timeless Watches: The Y2K Denim Jumpsuit serves as a canvas for showcasing your favorite timepieces.
Activewear Adaptability: Elevate your activewear game by wearing this jumpsuit for workouts, combining style and functionality.
Chilly Evenings with Sweaters: Pair it with a cozy sweater for those cooler spring and autumn evenings.
Effortless Elegance in Wide Leg: The wide leg jumpsuit style adds a touch of retro elegance to your look.
Spandex Flexibility: The incorporation of spandex in the fabric offers flexibility and ease of movement for all seasons.
Layered Luxury with Underwear: In colder seasons, you can layer it with underwear for warmth without sacrificing style.
Floral-Print Flair: Add a touch of springtime charm by pairing it with a floral-print blouse or accessories.
High-Waisted Statement: The high-waisted design complements your figure and provides a perfect platform for various tops.
V-Neck Versatility: The V-neck adds a versatile touch, allowing you to showcase different necklaces or scarves.
Retro Revival: The Y2K Denim Jumpsuit effortlessly brings the spirit of the past into contemporary fashion, suitable for all seasons.
Blazers for a Professional Look: Layer it with blazers for a professional, put-together appearance in any weather.
High-Waist Accent: The high-waist accentuates your curves while allowing you to style the upper half with different garments.
Tapered Chic: The tapered leg design provides a sleek and stylish look, whether you're dressing up or down.
Loungewear Comfort: This jumpsuit doubles as stylish loungewear, ensuring your comfort and style at home.
Embroidered Elegance: Enhance your outfit with embroidered accessories to make a bold fashion statement.
Outerwear Excellence: It pairs seamlessly with various outerwear options to keep you warm in chilly seasons.
Knit Layers for Coziness: Add cozy knit layers on colder days, keeping you snug and stylish.
Bodysuit Chic: The Y2K Denim Jumpsuit serves as a chic foundation for layered outfits or as a standalone statement piece.
Lingerie with a Twist: You can experiment with unique lingerie pieces to create a captivating look.
Flare and Trousers: The jumpsuit's flare and trousers design provide versatility, perfect for diverse occasions.
Pants Perfection: It embodies the ease of pants while offering the stylish appeal of a one-piece pant ensemble.
Women's Wardrobe Essential: It's a must-have for every woman, offering a diverse range of styling possibilities.
Skinny Belt Sophistication: Elevate your outfit by adding a skinny belt, defining your waistline and adding an extra layer of style.