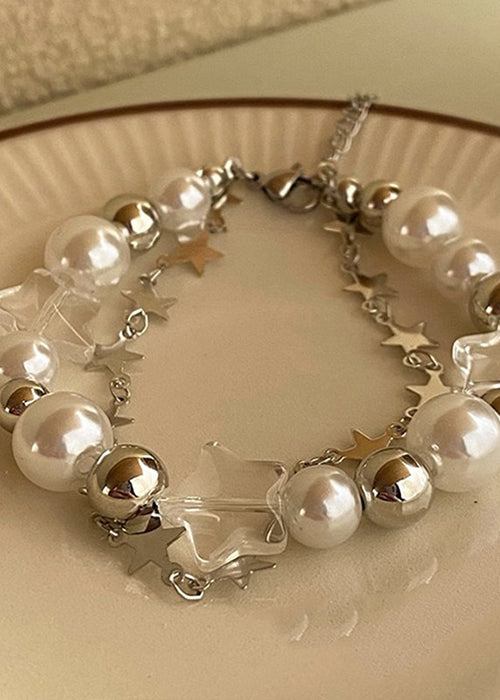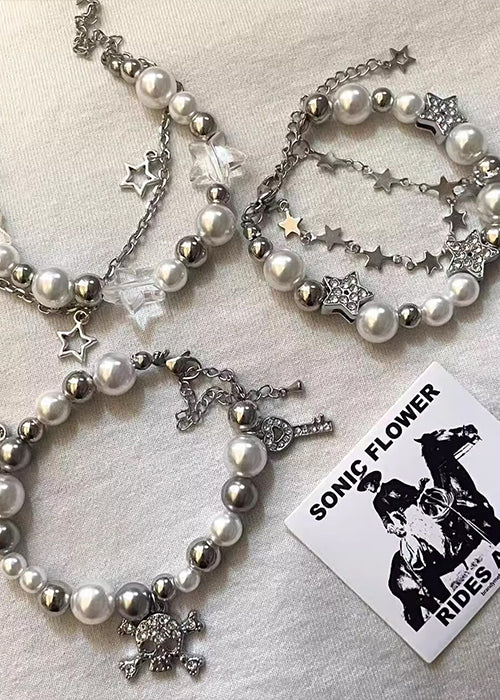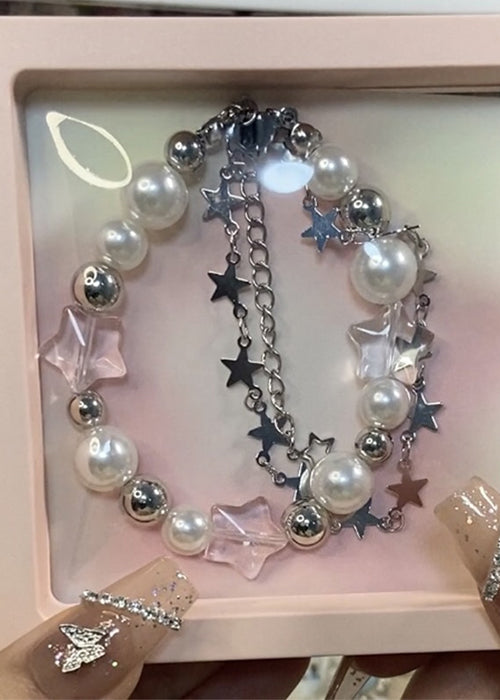 Y2K Beaded Bracelets
✔️ Free and Secure Worldwide Delivery
💜-15% off with code BLACKMONTH15
Free
shipping
Customer
service
Secure
payment
Contact
us
Give your day-to-day outfit a new look with these
Y2K Beaded Bracelets
Elegant and sober
Reinforced Zinc Alloy
Crystal with magnetic effect (eye-catching)
Not available in physical stores
Unique edition
How to choose the perfect Y2K Beaded Bracelet for your outfit
When it comes to enhancing your Y2K-inspired attire, the choice of the perfect beaded bracelet is pivotal. These bracelets are not limited to a particular gender; they are versatile and can complement both men's and women's fashion. Y2K beaded bracelets, adorned with colorful beads and intricate designs, serve as the ideal accessory to elevate your look.
Women looking for Y2K beaded bracelets have many choices. From shining rhinestone pieces to eye-catching eye bracelets, these accessories bring a chic touch to any look. Handmade jewelry is a top choice for fashionistas who value detail and craftsmanship. Select from gemstone, crystal, and metal bracelet designs to match your own look.
Sterling silver bangles with beaded chain detailing offer sleek sophistication. This piece radiates sophistication and can be effortlessly layered with other Y2K bracelets and chain necklaces for a fashionable, stacked look. .
By incorporating Y2K beaded bracelets into your fashion repertoire, you can witness the transformation of your outfits into something extraordinary. Whether you prefer silvertone or plated styles, these fashion bracelets and charm bracelets will keep you on-trend and ready to conquer the Y2K fashion scene.
Unlock your Y2K potential: A trendy dive into Beaded Bracelets
The Y2K era has made a triumphant return, and it's high time to unlock your fashion potential by embracing trendy beaded bracelets. These accessories are not limited by gender, making them a versatile and stylish choice for everyone. Y2K beaded bracelets allow for endless style combinations, enabling you to tailor your look.
Experiment with bangles and pendants to introduce an instant style upgrade to your attire. Create a look that's uniquely your own with a combination of gemstones, crystals, and charms.
For those who appreciate a touch of sophistication, consider sterling-silver stunners. These bracelets exude timeless elegance and can be paired with other Y2K jewelry, like chain necklaces, to achieve that coveted stacked look.

Embrace the Y2K trend with beaded bracelets, and unlock your fashion potential. Whether you're into silvertone or plated styles, these accessories will keep you on-trend and ready to make a statement in the world of Y2K fashion.
The Art of Layering: Y2K Beaded Bracelets and Your Style
In the ever-evolving world of fashion, mastering the art of layering is a skill that sets trendsetters apart. Y2K beaded bracelets have proven to be the perfect canvas for creating unique and personalized combinations that reflect your style. Create a layered look with these Y2K-style beaded bracelets, perfect for any fashion level.
Pair a delicate sterling silver bangle with a vibrant gemstone bracelet for an elegant contrast. The interplay of shiny metals and colorful stones can create a captivating visual effect. Don't be afraid to experiment with charms and pendants on your beaded bracelets. These small, detailed accents can make a big difference in your overall style.
Choose complementary colors for a unified look. If you're wearing a statement necklace or a chain necklace, choose complementary beaded bracelets that don't overpower the overall look. It's all about balance and cohesion.
Remember, Y2K beaded bracelets are not limited by gender. Men can partake in this fashion trend with equal flair. Embrace the versatility of these bracelets to express your unique style, whether it's bold and daring or understated and refined.
2000s beaded bracelets offer countless possibilities for expressing your individual style. Combining sterling-silver, plated, or handmade designs will create an eye-catching look that's all your own. With Y2K bracelets, layering and customizing is easy - fashion a masterpiece that shows off your personal flair.
The many points to note about this Y2K Beaded Bracelets
Versatility: Y2K Beaded Bracelets are incredibly versatile, adapting seamlessly to the changing seasons. They can elevate your style in spring, summer, fall, and winter, ensuring you always look fashion-forward.
Timeless Elegance: The combination of black onyx, crystal beads, and sterling silver accents lends these bracelets a timeless elegance that complements every season's fashion trends.
Statement Piece: Y2K Beaded Bracelets are not just accessories; they are statement pieces that can effortlessly enhance your look in any weather. Whether you're layering them with cozy winter sweaters or flaunting them with summer sundresses, they're sure to stand out.
Customizable: Y2K Beaded Bracelets offer an array of colors and styles, allowing you to tailor your look to the season. From warm hues of fall to bright shades of spring, there's a design to fit all year round.
Warmth and Comfort: Semi-precious stones like amethyst and turquoise add a layer of warmth and comfort to cold-weather outfits. Their practical and stylish benefits make them an ideal choice.
Birthstone Beauty: 2000s Beaded Bracelets often feature birthstones, making them a meaningful choice for every season. Whether it's your own birthstone or a loved one's, wearing it as part of your accessory collection adds a personal touch.
Textured Variety: The inclusion of different beads, chains, and links in Y2K Beaded Bracelets provides a textured variety that can enhance your seasonal outfits. Layer them in winter or wear them solo in summer—the choice is yours.
Adaptable Elegance: Whether you're attending a summer wedding or a winter gala, these bracelets offer adaptable elegance that complements the tone of each season's festivities.
Time-Honored Craftsmanship: Y2K Beaded Bracelets often feature intricate craftsmanship, enhancing your style with a touch of artisanal beauty.
Complete Your Look: These bracelets add the finishing touch to your seasonal ensembles, making them an essential accessory to complete your year-round looks.