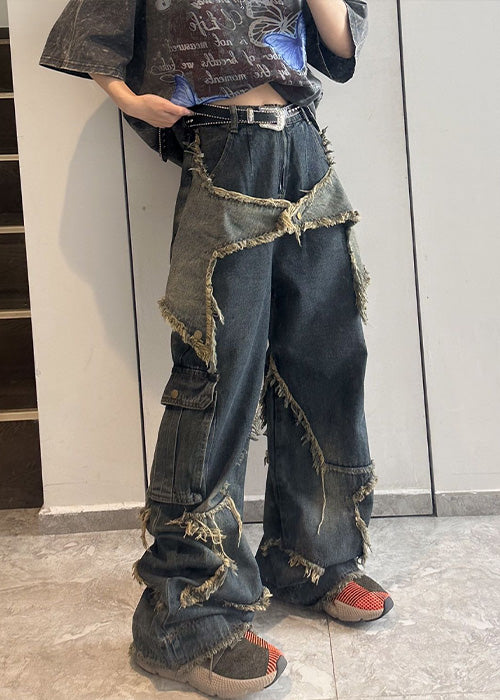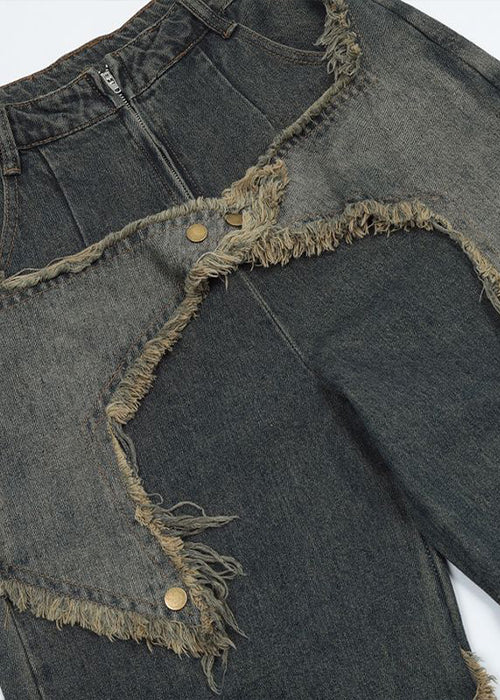 Star Y2K Jeans
✔️ Free and Secure Worldwide Delivery
💜-15% off with code BLACKMONTH15
Free
shipping
Customer
service
Secure
payment
Contact
us
Spice up your everyday outfit by adding these Star Y2K jeans from the 2000s
Summer selection
Not available in physical stores
Greater freedom of movement
Stars of the 2000s
Super-soft cotton
Elevate your wardrobe with Star Y2K Jeans: A fashion must-have
As a fashion enthusiast, you're constantly seeking pieces that elevate your wardrobe, and Star Y2K Jeans are the perfect addition. These jeans are the epitome of a fashion must-have. With a range of styles, including Slim jeans, Boot cut jeans, and High-waist options, they cater to your every mood.
Star Y2K Jeans offer a refreshing take on classic denim. The Ankle jeans provide a contemporary edge, while the Boyfriend jeans offer a laid-back, relaxed fit. The High-waisted options accentuate your curves and give you a timeless, flattering silhouette.
If you're into the distressed look, you'll love the selection of Distressed jeans in the Star Y2K collection. These jeans bring a touch of edginess to your wardrobe. For those who like options, these jeans are perfect for creating a wide range of styles; from sporty-chic when paired with activewear or dressed up with sweaters, tees, or jackets.
Star Y2K Jeans aren't just jeans; they're a fashion statement. They cater to all styles, whether you prefer Skinny jeans or Wide-leg options. Embrace the timeless denim charm, and elevate your wardrobe to new heights with these must-have jeans. They're the perfect blend of classic and contemporary.
How to rock your Star Y2K Jeans like a fashion icon
Being a fashion icon is all about making a statement, and your choice of jeans can play a pivotal role in that. Star Y2K Jeans are your canvas for creating fashion magic. Here's how you can rock your Star Y2K Jeans like a true icon.
Skinny jeans have always been a symbol of fashion-forward style. Pair them with a fitted top and a statement belt to accentuate your figure. Don't forget to slip on your trendiest sneakers for a look that's effortlessly chic.
For those who prefer a more relaxed vibe, the Boyfriend jeans from the Star Y2K collection are your best friend. Roll up the cuffs for that extra touch of style, and complement them with a pair of bootcut jeans for a boho-inspired look.
Star Y2K Jeans boast a low-rise fit perfect for making a statement. When styled with a cropped top, these jeans flaunt a unique look that stands out from the crowd. Available in embroidered versions for an exclusive touch, these jeans are sure to turn heads.
From denim shorts to straight-leg jeans and everything in between, Star Y2K Jeans are your ticket to making a fashion statement. Their stretch denim ensures comfort without sacrificing style. Whether you're dressing up or down, these jeans are your key to becoming a true fashion icon.
A sustainable and stylish choice for your wardrobe
In today's fashion landscape, it's essential to make sustainable choices. Star Y2K Jeans offer not only style but also a commitment to sustainability, making them a perfect choice for your wardrobe.
Star Y2K Jeans prioritize sustainability, using premium, eco-friendly materials to guarantee longevity. Furthermore, their production has been improved to slash carbon emission and water utilization. By opting for Star Y2K Jeans, you're committing to a greener, more environment-friendly fashion choice.
With various options like Super skinny jeans, Straight leg jeans, and Bootcut jeans, Star Y2K caters to your unique style while staying true to its environmental responsibility. The Womens collection features a wide range of sizes and fits to ensure that every woman can find her perfect pair.
The longevity of these jeans means you can create countless outfits with just a few staple pieces. Pair them with tees, sweaters, or jackets, and you'll have a versatile wardrobe that stands the test of time.
Star Y2K Jeans provide a mindful replacement to traditional denim, granting more than an attractive appearance. Crafted with eco-friendly hues and fabrics, donning these jeans permits wearers to express their style with an environmentally conscious decision that has a beneficial effect on the earth. Update your wardrobe while doing good with these stylish and eco-friendly jeans.
Why Star Y2K Jeans are a year-round wardrobe essential
Premium Denim Quality: Star Y2K Jeans are crafted from the finest jeans denim, offering a luxurious feel and long-lasting durability. Whether it's the scorching heat of summer or the chilly days of winter, the premium quality of these jeans ensures comfort and style.
Trendy All Year: These jeans are not just a passing trend; they are a timeless classic with a trendy twist. From the sleek stretch skinny jeans for a body-hugging fit to the chic high-rise skinny jeans, you can rock the latest fashion no matter the season.
Seasonal Versatility: In the summer, opt for wide-leg jeans to stay cool and stylish. During colder months, slip into the warmth of jeggings or tapered jeans to keep the cold at bay. These jeans adapt to the season seamlessly.
Lounge and Sleepwear: Star Y2K Jeans are so comfortable that they can double as loungewear or even sleepwear. Their soft and breathable fabric is perfect for those cozy days and nights when you want to relax in style.
Outerwear and Layering: This 2000s Jeans with stars patterns offer multiple styling possibilities—from comfy hoodies to sweaters, tees, and even outerwear for chillier days. Achieve outfit perfection with these versatile bottoms.
Multiple Fits: No matter your fashion taste or comfort level needs, Star Y2K Jeans provide you with a wide selection of fits like loose, skinny, and straight - making them ideal for anytime of year.
Trendy Shades: Star Y2K Jeans come in a variety of shades, including medium blue, black denim, and more. This enables you to choose an optimal color for every season, ranging from timeless blue denim for summertime to more somber shades for winter.
Summer to Winter Styles: Transform your summer look with chic cropped jeans and embrace the cold season with the elegance of flare jeans. These jeans seamlessly transition your style from one season to the next.
Pair with Everything: Star Y2K Jeans are incredibly versatile and pair well with everything from joggers to skirts, making them a year-round canvas for your unique fashion statement.