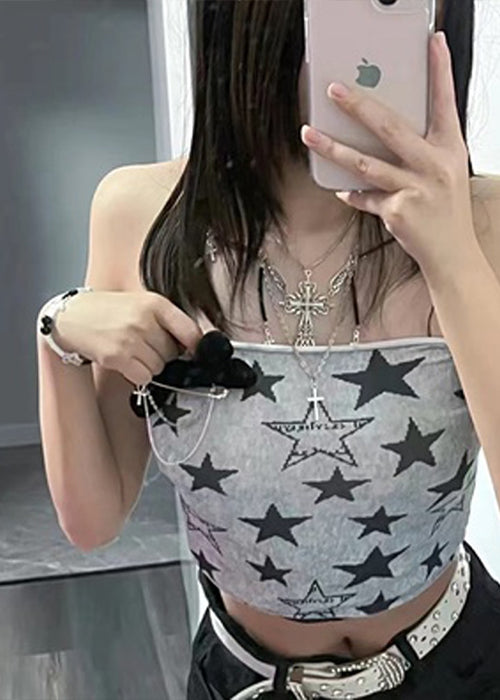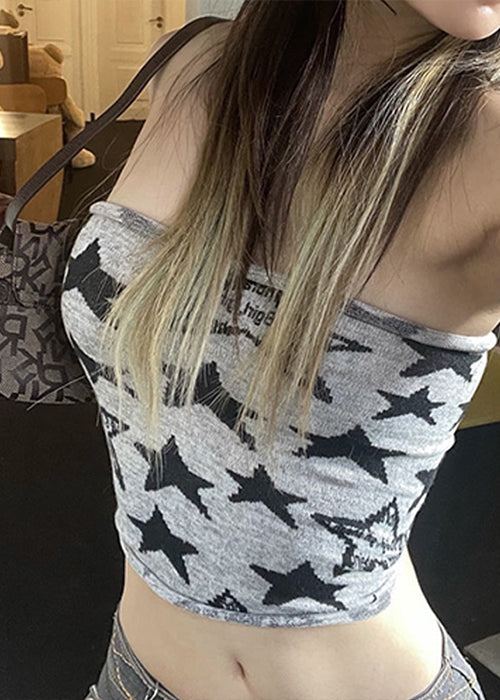 Star Top Y2K
✔️ Free and Secure Worldwide Delivery
💜-15% off with code LASTMONTH15
Free
shipping
Customer
service
Secure
payment
Contact
us
Add an extra touch to your outfit by adding this Y2K Star Top to your wardrobe
Selection made for summer
Exclusive star pattern
Not available in physical stores
Ultra-soft clothing
Adapts to all shapes and sizes
Brighten up your wardrobe with this Y2K Star Top
This Y2K Star Top brings an elegant luminescence to your wardrobe. Its glittering stars catch the light for an added layer of sparkle. An iconic choice for any event, its classic design and stunning details give you the glamor to stand out. Whether it's for a night out, or paired with your daily look, this retro-chic top adds a bold flair that will empower you to make an entrance.


This top is the ideal combination of retro-chic and modern sophistication. Its twinkling stars and vintage-inspired design create a charming and luminous look. Our Star Top Y2K can be styled to match any style, from casual and comfortable to elevated and sophisticated. Carry an air of confidence knowing that you're wearing a piece of fashion history, allowing you to be creative and daring with your outfit.
Show off your 2000s style with the Star Top
Star Top Y2K offers a fashionable homage to the Y2K revival, letting you outwardly demonstrate your style from your outfit to your living space. The dynamic design and star motifs make it an ideal addition to any dressing area or wall to add a touch of creativity.
With Star Top Y2K, you can show off your style and inject a bit of fun into your living space with its modern look and cheerful colors. Customize your living space to reflect the fashion choices you make and express your unique Y2K aesthetic with this eye-catching design. If you're looking for more tops to complete your wardrobe, check out the Y2K top selection.

A dazzling look: Don't miss the Star Top Y2K!
The Star Top Y2K is an essential piece for achieving a captivating look. Its glamorous aesthetic reflects the iconic fashion of the Y2K era. Wearing this radiant top is like adding a decorative element to your wardrobe, transforming your outfit into a showstopper.
Stand out from the crowd and reflect your unique personality and taste with a one-of-a-kind look that radiates confidence Star Top 2000s allows you to make a bold statement with eye-catching designs and a sturdy construction that won't let you down
Why you need this Star Top Y2K in your wardrobe
Timeless Glamour: The Star Top Y2K encapsulates the glitz and glamour of the Y2K era, offering a timeless and sophisticated look.
Confidence Booster: Wearing a dazzling piece like this boosts your confidence and radiates positivity in your overall demeanor.

Versatile Style: It's a versatile piece that can be dressed up for special occasions or paired with casual outfits for everyday chic.

Statement Piece: Star Top Y2K is a unique top that will help you stand out and create a memorable impact in any environment.

Unique Design: The starry design adds a touch of uniqueness and character to your wardrobe, ensuring you don't blend into the crowd.

Nostalgic Charm: For those who appreciate the nostalgia of the early 2000s, the Star Top Y2K brings back fond memories of that era.