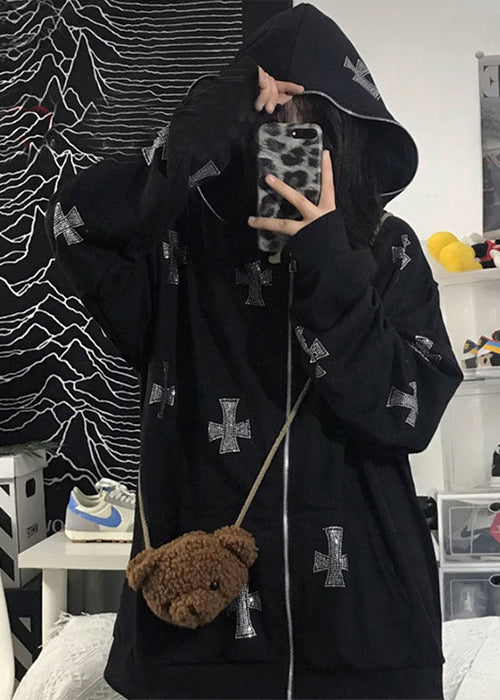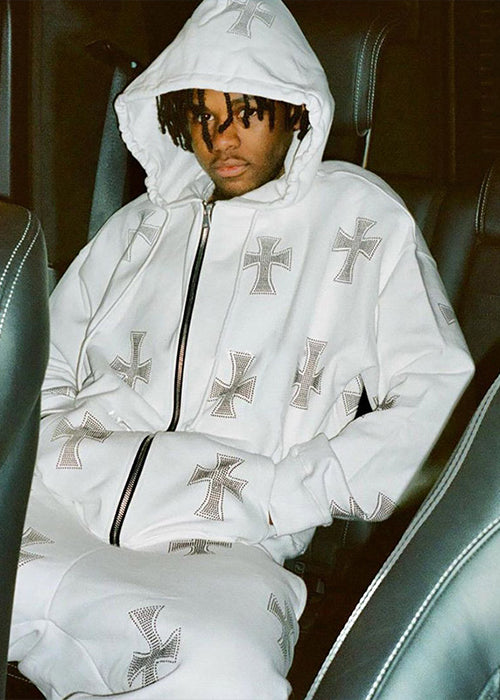 Rhinestone Y2K Jacket
✔️ Free and Secure Worldwide Delivery
💜-15% off with code LASTMONTH15
Free
shipping
Customer
service
Secure
payment
Contact
us
Adopt an impregnable look now by making the choice to wear this Rhinestone Y2K Jacket

Elegant and pleasant to wear
Available in two editions
Caresses the skin like a cloud
Shock effect thanks to gemstones
A real eye-catcher that won't go unnoticed

Vintage meets modern: The irresistible allure of Rhinestone Y2K Jackets
In the world of fashion, we often see styles come full circle. The latest trend that has captivated the fashion scene is the timeless appeal of Rhinestone Y2K Jackets. TThis jacket strikes an ideal balance between classic beauty and contemporary style.
Outerwear enthusiasts can't resist the allure of these exquisite jackets. This jacket boasts exquisite details, like rhinestone accents and distinctive styling, for a touch of sophistication and finesse. Rhinestone Y2K Jackets are the perfect pick for any style, whether you're going casual or dressing to the nines for a special event.
These jackets boast a high level of versatility, making them sought-after items. You can pair them with various outfits, from sweat pants and oversized fleece pullovers to more formal cardigans. The rhinestones on the jackets pair harmoniously with a variety of apparel choices, making them an essential item for both genders.
These eye-catching jackets feature either stripes or embroidered details, providing the perfect blend of fashion and function. The drawstring and zip-up designs of the hoodies offer both comfort and style, guaranteeing a memorable look wherever you go.
This guide provides an in-depth look at Rhinestone Y2K Jackets and their popularity. Its analysis of the jackets' styling potential with assorted shirts will show why they have recently become one of the trendiest sweater choices. Get ready to embrace the timeless elegance and charm of these stunning jackets.
The ultimate guide to rocking Rhinestone Y2K Jackets with confidence
If you've recently acquired a Rhinestone Y2K Jacket, you're in for a stylish treat. These jackets are not just an ordinary piece of outerwear – they are a fashion statement. Our comprehensive guide on wearing your Rhinestone Y2K Jacket to its maximum effect offers the confidence you need to capitalize on your purchase.
First and foremost, understanding the art of layering is essential. Complete your ensemble with a hoodie or fleece pullover, creating a cozy yet exquisite ensemble. Accessorize with embroidered shirts and stripes for a tailored look that reflects your originality.
Rhinestone Y2K Jackets are renowned for their versatility; from zip-up to pullover designs, these jackets provide a variety of fashionable options. This combination of practicality and style is further complemented by their signature rhinestone accents that guarantee to make you stand out in any crowd..
Wearing your Rhinestone Y2K Jacket with confidence means embracing the oversized trend. Opt for oversized tops underneath to create a balanced and effortlessly chic look. The drawstring features in the hoodie are not just functional but also add an edgy touch to your outfit.
This guide is all about helping you understand why Rhinestone Y2K Jackets are a must-have addition to your wardrobe. Unlock the full sartorial potential of the Rhinestone Y2K Jacket when you combine with the correct ensemble and self-confidence.
Timeless elegance: Why Rhinestone Y2K Jackets are a must-have
In the ever-evolving world of fashion, certain pieces stand the test of time, and Rhinestone Y2K Jackets are a prime example. Their timeless elegance is just one of the reasons why they have become a must-have for fashion-forward individuals.
Elevate your wardrobe with these chic jackets. Featuring timeless silhouettes embellished with sparkling stones and elegant designs, the Y2K Jacket provides a polished addition to any wardrobe. Charcoal and stripes make for a unique and eye-catching look.
Rhinestone Y2K Jackets are gender-neutral.Both women and men can embrace these jackets to elevate their style game. The knit details, zip closures, and functional sleeves provide comfort without sacrificing fashion.
Their adaptability is another feature that can't be ignored. A Rhinestone Y2K Jacket is an ideal addition to any wardrobe. Its range of combinations makes it compatible with any outfit, from cozy sweaters to sporty hoodies, perfect for all occasions. It additionally features drawstring and zip-hoodie elements for added practicality and style.
Important points to note about this Rhinestone Y2K Jacket

This new arrival in the world of fashion is far more than just a jacket; it's a versatile piece that exudes warmth, elegance, and sheer style. Here's why you should embrace it:
Warmth and Comfort: The Rhinestone Y2K Jacket offers cozy fleece lining, ensuring you stay warm even on the chilliest days. Its hooded design and long sleeves are perfect for battling the winter cold.
Versatility: Whether you prefer to dress in hoodies for men, womens, or something in between, this jacket complements all styles. It seamlessly pairs with a variety of tops, from long-sleeve t-shirts to striped tees.
Chic and Unique Design: The intricate rhinestone embellishments elevate your style game, making this jacket suitable for any occasion, from casual outings to special events.
Reversible Option: Some Rhinestone Y2K Jackets offer a reversible feature, allowing you to switch up your look effortlessly, making it like having two jackets in one.
Sportswear Meets Fashion: This jacket bridges the gap between sportswear and high fashion. The zip-up hoodies and full zip hoodie design provide a sporty edge to your wardrobe.
Quality Material: Crafted from high-quality materials such as polyester and cotton sweatshirt, this jacket ensures durability while maintaining a comfortable feel.
Elegance and Sophistication: The jacket's ribbed cuffs and well-crafted design add a touch of cardigan sophistication to your ensemble.
Fashion for All: Rhinestone Y2K Jackets are available for both men and women, offering a variety of styles and colors to suit individual preferences.
Easy Styling: You can wear it casually with your favorite crop-top or give it a more athletic twist with a track jacket. The options are limitless.
All-Weather Wear: This jacket is not just for autumn and winter; it's suitable for all seasons, thanks to its adaptability and timeless appeal.