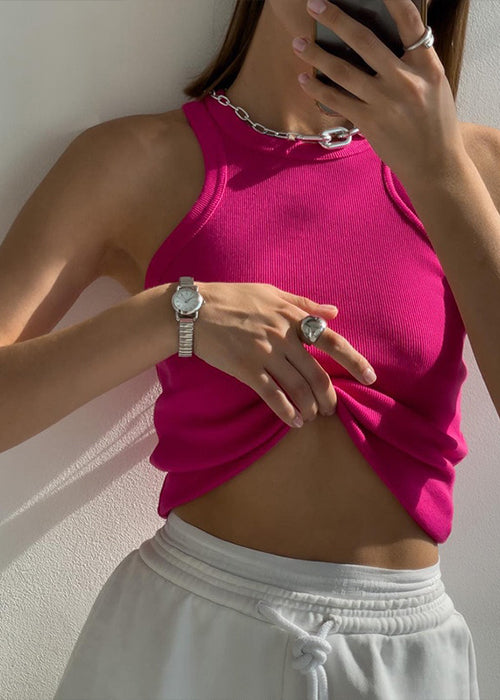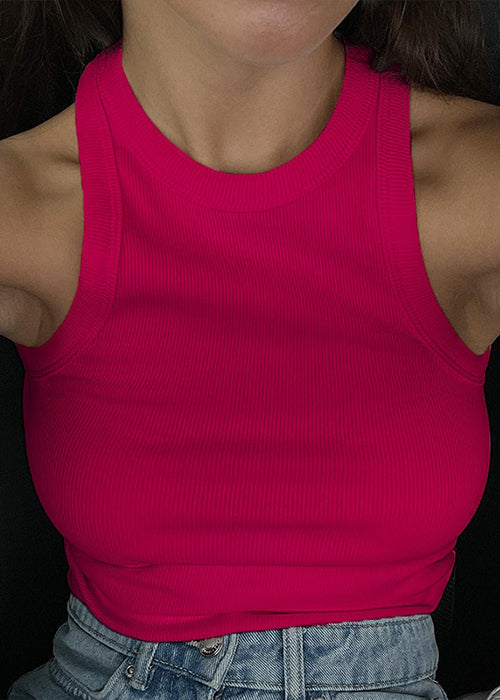 Pink Y2K Tank Top
✔️ Free and Secure Worldwide Delivery
💜-15% off with code BLACKMONTH15
Free
shipping
Customer
service
Secure
payment
Contact
us
Rediscover the pleasures of sweet summer comfort with this Pink Y2K Tank Top
Deep freedom of movement

Sparkling neckline attracting admiration

Not available in physical stores

Ultra-soft cotton

Reinforced polyester
Pink Y2K Tank Top: The quintessential Y2K aesthetic
In the realm of fashion, the Pink Y2K Tank Top stands as a vivid and timeless representation of the Y2K aesthetic. This classic piece captures the essence of the early 2000s with its vibrant colors and nostalgia-inducing design. A must-have for fashion lovers and Y2K style enthusiasts, the Pink Y2K Tank Top.
The Y2K aesthetic is all about embracing audacious and bold style choices. Recreate the hallmark Y2K look by pairing the Pink Y2K Tank Top with denim shorts or a flared skirt. For those cooler days, layer it under a long-sleeve tee or a cozy cardigan to add a touch of retro flair. This versatile garment offers a myriad of possibilities for crafting distinctive outfits that celebrate the spirit of the early 2000s.
Bring the style of 2000 back with the Pink Y2K Tank Top. A sleeveless design allows you to show off your effortlessly cool Y2K-inspired look with a bold fashion statement.
In the pink: Refurbish your wardrobe with the Y2K Tank Top trend
Fashion trends have an uncanny way of making comebacks, and the Y2K tank top trend is no exception. If you're looking to breathe new life into your wardrobe, it's time to consider the appeal of the Y2K tank top. This tank top brings a modern take on the 2000s trend; it comes in a range of shades of pink to inject nostalgia into your wardrobe.
Pair your Y2K tank top with denim or a cropped sweater for a memorable, yet modern look. Layer under a cardigan or jacket to truly capture the Y2K aesthetic. Experiment to find a combination that perfectly reflects the era and your style!
Refresh your look and experience Y2K style with the Y2K tank top. Add a touch of nostalgia to your wardrobe with this trend, perfect for giving your style a modern update.
How to slay the fashion game with your Pink Y2K Tank Top
Looking to conquer the fashion scene with your Pink Y2K Tank Top? You're in the right place. This article will guide you through the art of mastering the Y2K aesthetic and making a style statement that turns heads.
Start by considering your bottoms—denim skirts, leggings, or even shorts can complement the vibrant charm of your tank top. For a more daring look, experiment with a cropped sweater or a sleeveless blouse to create a stylish contrast. Layer a tee or cardigan over the tank for a stylish, seasonal look.
Accessories and footwear complete an outfit. Balance your Pink Y2K Tank Top with a flared skirt and the perfect kicks for an eye-catching, individualized look.
With these fashion tips and tricks, you'll be well on your way to mastering the art of styling your Pink Y2K Tank Top and confidently stepping into the fashion spotlight. Make an impact with your one-of-a-kind Y2K-influenced outfit.
What you need to know about this Pink Y2K Tank Top

Sleeveless Elegance: The Pink Y2K Tank Top exudes sleeveless elegance, allowing you to showcase your arms and shoulders, and embrace the warm weather with style.
Versatile Layering: It pairs effortlessly with various wardrobe pieces, whether it's under lightweight sweaters, jackets, or as a standalone statement piece.
Diverse Styling: This tank top complements everything from flowy dresses to high-waisted trousers and pleated skirts, giving you limitless styling options.
Cinched Waist: The Pink Y2K Tank Top can be tucked into your favorite bottoms, emphasizing your waist for a flattering silhouette.
Transitional Outerwear: For cool spring evenings or unexpected breezes, it's an ideal layering piece under coats or lightweight outerwear.
Timeless Plaid Pairing: Pair it with plaid patterns for a nostalgic nod to Y2K fashion trends.
Effortlessly Feminine: The Pink Y2K Tank Top adds a touch of femininity to any outfit, making it a go-to choice for women who appreciate chic and stylish looks.
All-Occasion: Whether you're dressing up for a special event, hitting the gym in activewear, or lounging around, this tank top effortlessly transitions from casual to chic.
Complete the Look: Layer it under a jumpsuit, pair it with tights, or incorporate it into your lingerie-inspired outfits – the Pink Y2K Tank Top adds a stylish touch to any look.