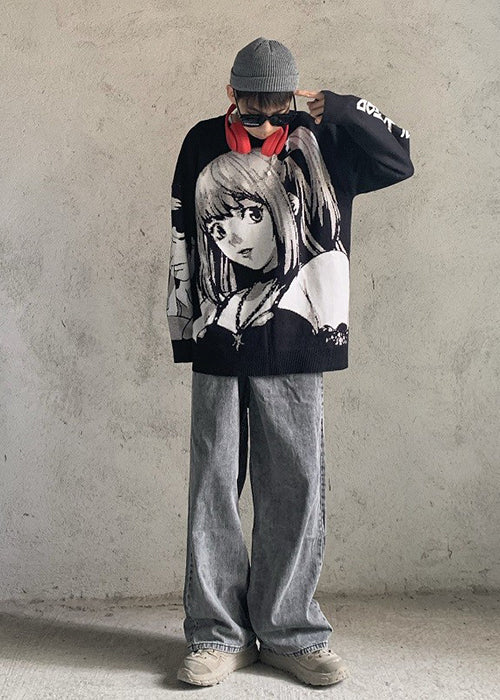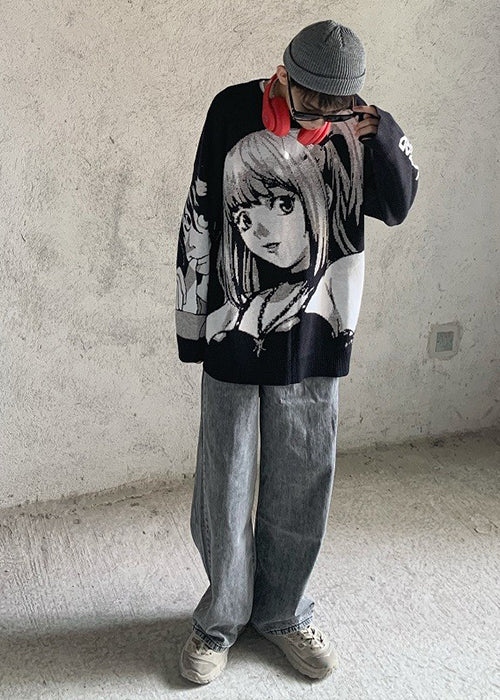 Misa Amane Sweater
✔️ Free and Secure Worldwide Delivery
💜-15% off with code LASTMONTH15
Free
shipping
Customer
service
Secure
payment
Contact
us
Complete your outfit for the day with this Misa Amane Sweater from the 2000s
Autumn/Winter Collection
Relentless materials (Cashmere/Cotton)
Top popular excluvif online
Not available in local stores
Perfect for selfies
Misa Amane Sweater: The perfect addition to your anime-inspired wardrobe
As a fashion connoisseur, I understand the importance of incorporating unique and stylish pieces into your wardrobe. The Misa Amane Sweater is not just a clothing item; it's a style statement that seamlessly blends anime aesthetics with contemporary fashion.
The versatility of the Misa Amane Sweater is one of its defining features. Whether you prefer the classic crew neck sweater style or a trendy cropped sweater, this piece fits effortlessly into your collection. The choice of materials and textures, such as knitwear or cable-knit, ensures that you can adapt your look to various occasions.
For those who appreciate the ease of layering, the Misa Amane Sweater works perfectly over a blouse or under a cozy cardigan sweater. You can dress it up with a stylish sweater dress or keep it casual with a classic sweatshirt. Its adaptability makes it a staple for any wardrobe.
The Misa Amane Sweater also offers various lengths, from a chic tunic sweater that pairs beautifully with shorts to a cozy poncho that's perfect for colder days. It seamlessly complements denim, skirts, and even your favorite tees. Whether you opt for a long-sleeve cashmere sweater or a pullover style, this sweater effortlessly enhances your fashion game.
Embrace the dark aesthetic with a Misa Amane Sweater
Dark and edgy aesthetics have a unique allure, and the Misa Amane Sweater fully embraces this style. Whether you're an anime fan or just someone with an eye for dark fashion, this sweater adds a layer of mystique to your ensemble.
The Misa Amane Sweater fuses together cable-knit and textured designs, creating a perfect option for those bold enough to show off their unique fashion sense. Its dark, mesmerizing quality infuses any outfit with an enigmatic aura.
For those drawn to a darker look, the Misa Amane Sweater comes in hooded variations that provide a hint of city chic. Paired with the right bottoms, it can transform your look into a powerful expression of your style.
Don't limit yourself to traditional styles; consider experimenting with different layers and outerwear. Throw on a tailored coat or denim jacket over your Misa Amane Sweater to create a look that's uniquely yours.
Misa Amane Sweater: A must-have for anime fashion enthusiasts
The Misa Amane Sweater has enjoyed immense success, showcasing the influence of anime fashion on the market. Featuring striking visuals and practical features, it has become a must-have item amongst anime enthusiasts.
For those who adore all things anime, this sweater is more than just a piece of clothing; it's an extension of your passion. The cable-knit and textured details pay homage to the attention to detail found in anime, making it a special addition to your wardrobe
The versatility of the Misa Amane Sweater allows you to incorporate it into various outfits. Pair it with outerwear like coats and denim jackets to create unique looks that resonate with your anime fandom.
The Misa Amane Sweater is designed to suit any season, offering either a wool blend for warmth or a lightweight crewneck version. Combining edgy fashion with a fan favorite anime aesthetic, this sweater is essential for any anime fashion enthusiast.
Misa Amane Sweater: embrace winter's style with warmth and elegance
Unmatched Coziness: The Misa Amane Sweater provides unparalleled comfort with its choice of materials. Whether it's the high-quality merino wool, warm polyester fleece, or cozy cotton sweater, this sweater will keep you snug even on the coldest of days.
Stylish Silhouette: The flattering silhouette of this sweater enhances your winter style. This sweater has a range of fits--from flowing and relaxed to sophisticated cable-knit--ensuring you look and feel great.
Versatile Layering: Embrace the art of layering with the Misa Amane Sweater. Its ability to pair effortlessly with vests, polos, and other winter layers lets you experiment with a variety of looks.
Exceptional Craftsmanship: The detailed knit sweater designs, such as ribbed and chunky cable-knit, reflect the dedication put into crafting this masterpiece. It exudes a level of quality that complements your fashion sense.
Various Necklines: The Misa Amane Sweater offers diverse necklines, from a basic crewneck to the more stylish turtleneck, pick the sweater that best fits your aesthetic and comfort requirements.
Winter-Ready Styles: Whether you prefer a striped sweater, a warm charcoal pullover, or a stylish marled knit, this sweater has a style for every winter occasion.
Easy Maintenance: The durability and ease of care of this sweater, be it a cable sweater or a zip sweater, ensure that it remains a wardrobe staple for seasons to come.
Unmatched Versatility: The Misa Amane Sweater is perfect for both casual and formal settings. Whether you're layering it with activewear or wearing it as a standalone piece, it's a versatile choice for every winter day.
Fashion-Forward Details: The intricate design elements, such as fringe accents and clever sleeveless variations, make this sweater a fashion-forward choice for the style-conscious individual.
Quality for All: The unisex appeal of the Misa Amane Sweater ensures that it's a winter staple for everyone. Regardless of your gender, this sweater enhances your style with its charm and warmth.