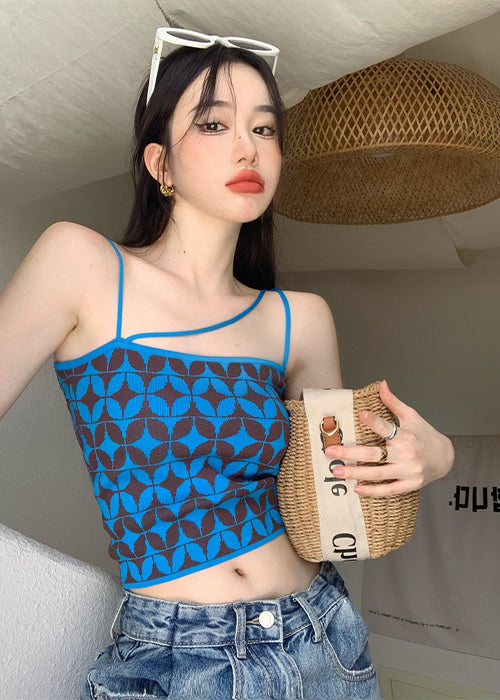 Graphic Tank Tops Y2K
✔️ Free and Secure Worldwide Delivery
💜-15% off with code BLACKMONTH15
Free
shipping
Customer
service
Secure
payment
Contact
us
Unlock your full potential with a Y2K Graphic Tank Tops complementing your outfit of the day
Soft, flexible polyester
Boosted freedom of movement
Pleasant and comfortable to wear
Fits all types of denim stockings
Sober and aesthetic at the same time
Bold and beautiful: The power of Graphic Tank Tops Y2K
When it comes to making a bold fashion statement, few garments have the power and allure of Graphic Tank Tops Y2K. These timeless pieces effortlessly blend bold aesthetics and captivating beauty to redefine your wardrobe. Let's delve into the world of Y2K style and discover why Graphic Tank Tops are the real powerhouse of modern fashion.
Unlocking Bold Aesthetics: Graphic Tank Tops Y2K are all about embracing bold designs that let you stand out in a crowd. With eye-catching graphics and innovative designs, you can transform a simple wardrobe into a runway of creativity.
Unleash Your Inner Artist: The beauty of Graphic Tank Tops is that they allow you to express your individuality and creativity. From edgy to whimsical, there's a Graphic Tank Top to match every mood and occasion.
Pairing Perfection: These versatile garments aren't just for casual days. Pair them with dresses, blouses, or even chic pants to create stylish outfits that defy expectations. For a bold statement, try matching them with tailored denim or layered under an elegant cardigan.
Layering Luxe: Graphic Tank Tops Y2K are not just about the tops themselves; they can be the foundation for your entire look. Layer them under jackets or oversized sweaters for added warmth and style in the colder months.
Accessories and Confidence: Boldness doesn't stop with the garment; it extends to your entire ensemble. Elevate your style with the right accessories, from chunky necklaces to the perfect pair of sneakers. These tank tops are your canvas, and your confidence is the brush that paints the picture.
In the world of fashion, Graphic Tank Tops Y2K are an undisputed symbol of power and beauty, offering you the ability to express your style with unmatched flair. Embrace the boldness and let your wardrobe speak volumes.
Redefining summer style: The allure of Graphic Tank Tops 2000s
Summer is here, and it's time to redefine your seasonal style with the alluring charm of Graphic Tank Tops 2000s. These iconic pieces harken back to the turn of the century, capturing the essence of nostalgia while adding a contemporary twist. Let's explore why these tank tops are the ultimate summer must-haves.
The Y2K Revival: The allure of the early 2000s is in full swing, and Graphic Tank Tops 2000s are at the forefront of this revival. With a nod to the past and a firm grip on the present, these tank tops effortlessly blend retro and modern aesthetics.
Summer Essential: As temperatures rise, it's essential to have versatile and breathable pieces in your wardrobe. Graphic Tank Tops 2000s are the perfect solution, offering comfort and style that adapts to the season.
Sun-Kissed Pairings: Mix and match these tank tops with your favorite summer pieces, be it flowy dresses, trendy pants, or lightweight denim shorts. The possibilities are endless, and your outfits can easily transition from casual to chic.
Nostalgia with a Twist: Graphic Tank Tops 2000s bring a sense of nostalgia that's hard to resist. But they also present an opportunity to reimagine and redefine your style for the modern age.
Comfort Meets Confidence: These tank tops allow you to express yourself while staying comfortable. Pair them with high-waisted trousers and top with a statement cardigan for a look that exudes confidence and individuality.
Summer isn't just a season; it's a state of mind. With Graphic Tank Tops 2000s, you can redefine your summer style, capture the allure of the past, and confidently step into the future of fashion.
Fashion Forward: The Future of Graphic Tank Tops Y2K
In the ever-evolving world of fashion, Graphic Tank Tops Y2K are not just a trend of the past; they're a glimpse into the future. As we look ahead, let's explore why these tank tops remain at the forefront of fashion, and why they are set to define the future.
Timeless Appeal: Graphic Tank Tops Y2K have transcended time, and their appeal remains unwavering. These pieces continue to captivate fashion enthusiasts and are anticipated to maintain their popularity.
Innovation in Design: The future of Graphic Tank Tops lies in innovative designs, combining new graphic elements, cutting-edge materials, and sustainable fashion practices to cater to an eco-conscious audience.
Unisex and Inclusive: The Y2K fashion revival is marked by inclusivity and fluidity. Graphic Tank Tops Y2K are available in unisex styles, ensuring everyone has access to these trendsetting garments.
Artistic Expression: With the rise of customization, the future of these tank tops may see an increase in personalized, embroidered designs, allowing individuals to express their artistic flair and unique identities.
Functional Fashion: Graphic Tank Tops are evolving to be more than just garments. They are increasingly incorporating functionality, such as built-in sneaker pockets or advanced moisture-wicking materials for active lifestyles.
Versatility in Pairing: The future holds endless possibilities for pairing Graphic Tank Tops Y2K with a range of garments, including coats, cardigans, and even as inner underwear, showcasing their adaptability.
Eco-Friendly Initiatives: Sustainability is a key theme in the future of fashion. Look for more eco-friendly options in Graphic Tank Tops Y2K, with a focus on using recycled materials and reducing fashion's environmental footprint.
As fashion continues to evolve, Graphic Tank Tops Y2K remain at the forefront, ready to shape the future of style. Whether through innovation, inclusivity, or sustainability, these tank tops are set to define fashion-forward trends for years to come.
Important things to note before buying Graphic Tank Tops Y2K
Effortless Versatility: Graphic Tank Tops Y2K seamlessly adapt to various styles and occasions, whether you're donning a skirt, a cozy sweater, or a chic blouse. The versatility they offer allows you to effortlessly switch between casual and more formal settings.
Aesthetic Appeal: The unique graphics and designs on Graphic Tank Tops Y2K make them a canvas for expressing your individuality and creativity, elevating your outfit's overall aesthetic.
Mix and Match Mastery: These tank tops effortlessly pair with a wide range of garments, including skirts and tailored trousers, allowing you to create stunning outfits that match your style preferences.
Seasonal Adaptability: As the [season] sets in, you can use Graphic Tank Tops Y2K as a layering piece, adding warmth and style under your favorite sweaters or jackets, or as a standalone top for a cooler and stylish look.
Accessories Galore: Enhance your outfit's appeal by accessorizing with hats, waist belts, or even sandals that perfectly complement the silhouette created by Graphic Tank Tops Y2K.
Sleeveless and Long-Sleeve Options: Whether you prefer a classic sleeveless look or opt for a long-sleeve design, Graphic Tank Tops Y2K offer variations to suit your [season] needs.
Polo Shirt Alternative: For a trendy twist on the classic polo shirt, Graphic Tank Tops Y2K provide a refreshing alternative that combines comfort and style.
Swimwear Cover-Up: Heading to the beach or pool? Use Graphic Tank Tops Y2K as a stylish cover-up over your swimwear, making it a versatile addition to your [season] wardrobe.
Underwear or Standalone: Graphic Tank Tops Y2K can also be worn as an inner layer for added warmth or as standalone pieces, offering you flexibility and comfort for different occasions.