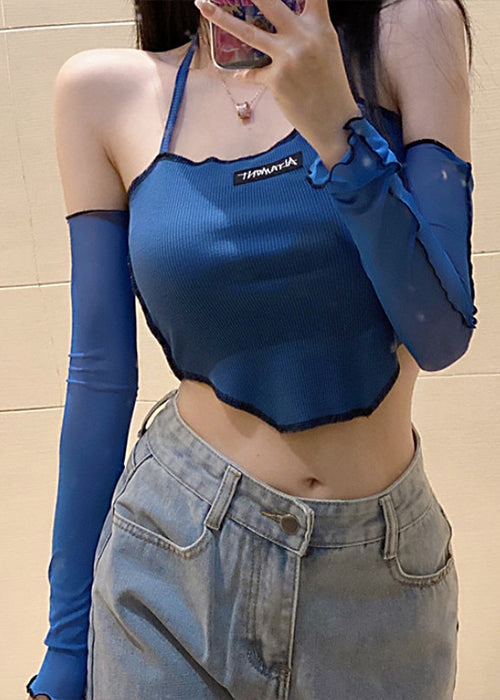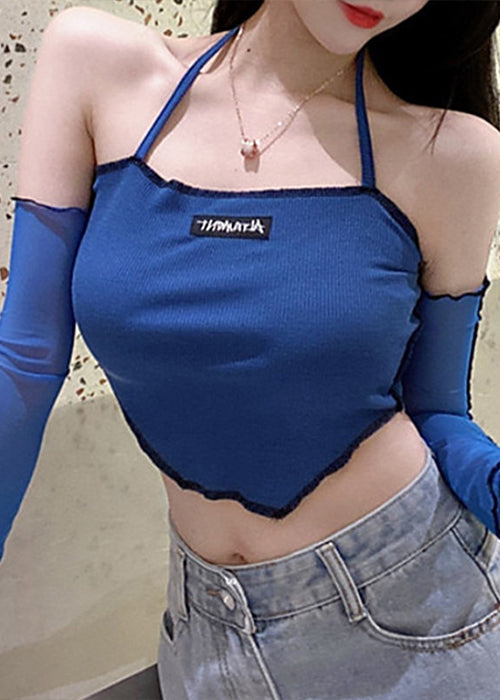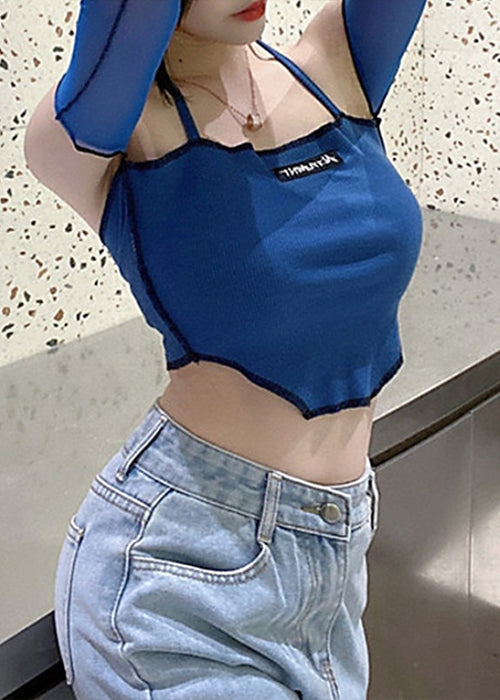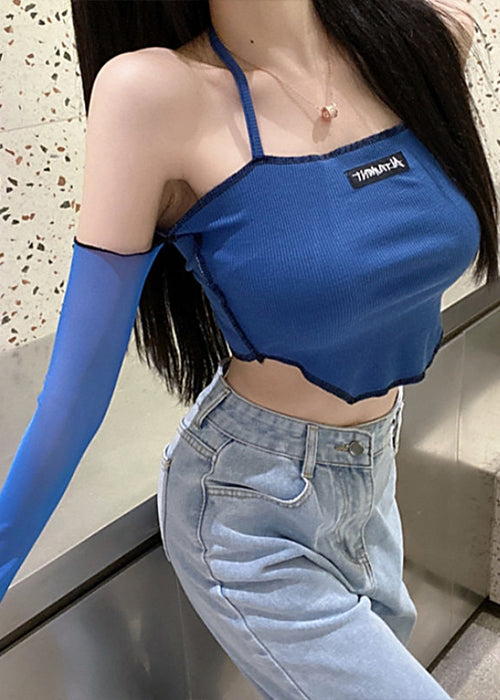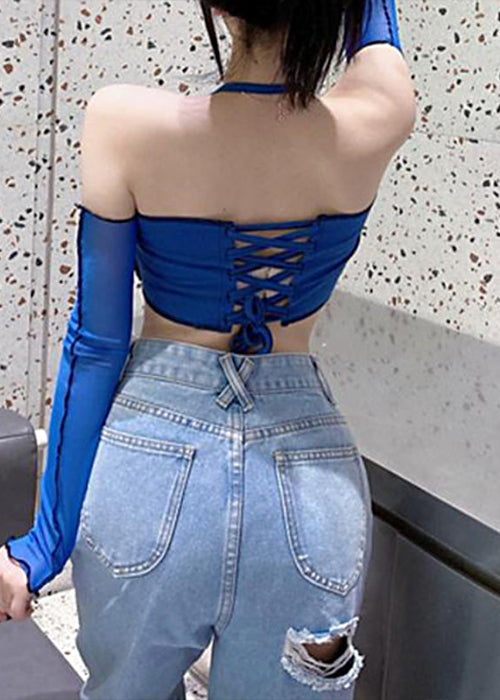 Blue Y2K Crop Top
✔️ Free and Secure Worldwide Delivery
💜-15% off with code LASTMONTH15
Free
shipping
Customer
service
Secure
payment
Contact
us
Get a relentless look now with this Blue Y2K Crop Top
Sturdy, supple polyester
Perfect for spring/summer parties
Comfortable and sober
Late 90s, early 2000s aesthetic
Fits all jeans
Elevate Your Summer Wardrobe with the Blue Y2K Crop Top
Summer is the perfect season to explore new fashion trends, and the Blue Y2K Crop Top is your ultimate wardrobe upgrade. This trendy crop top isn't just a piece of clothing; it's a style statement that adds an element of chic to your warm-weather ensembles.
Crafted with precision, the Blue Y2K Crop Top offers a skinny and flattering fit that accentuates your waist, making it a go-to choice for those who love to show off their figure. Made from a knitwear fabric, this sleeveless crop top offers breathable comfort and lasting wearability even in hot temperatures.
With its trendy strappy style and ribbed texture, this crop top perfectly balances simplicity and sophistication. This timeless crop top is the perfect piece for casual summer looks, completing outfits with high-waisted skirts, sweaters, or tees.
To enhance the versatility of the Blue Y2K Crop Top, don't hesitate to explore creative combinations. Layer it under outerwear or team it up with a chic lace top for a touch of elegance. The off-the-shoulder or halter options provide different looks that can transition seamlessly from day to night.
Elevate your style game with this stunning crop top and embrace the essence of summer fashion. The Blue Y2K Crop Top is more than just a piece of clothing; it's a fashion essential that defines your summer look.
Title: Summer Style Essential: How to Rock the Indigo Y2K Tank Top
When it comes to summer fashion, the Indigo Y2K Tank Top is your ultimate summer style essential. This versatile tank top is not only incredibly comfortable but also exceptionally stylish, making it a must-have in your seasonal wardrobe.
Crafted to flatter, the Indigo Y2K Tank Top displays your arms and waist with a slim fitting silhouette. The breathable, superior knitwear material makes the top an optimal option for warm weather.
The Indigo Y2K Tank Top provides various styling options. Pair it with your favorite high-waisted tunic or a pair of trendy sweaters for a chic and casual daytime look. Alternatively, dress it up for a night out with an outerwear piece, giving you that effortlessly fashionable allure.
The Blue Y2K Crop Top is ideal for casual or dressy looks this summer. Designed with a ribbed texture, this tank top exudes a chic edge to your style. Wear it with your favorite tees and sweaters or for a night out.
With its simplicity and grace, the Indigo Y2K Tank Top is the embodiment of classic summer style. Embrace the essence of comfort and elegance with this wardrobe essential and make it the focal point of your summer wardrobe.
Nostalgia in Style: Embrace Y2K Vibes with the Royal Blue Y2K Crop Top
Revisit the charm of the early 2000s with the Royal Blue Y2K Crop Top and embrace the nostalgia with a modern twist. This crop top takes you back to the Y2K era while keeping you firmly rooted in the contemporary world of fashion.
The slim, ribbed silhouette of the Royal Blue Y2K Crop Top emphasizes your waist, providing a classic look that epitomizes the Y2K era. The sleeveless style is not just comfortable; it's also ideal for those sunny, carefree days.
When it comes to Y2K fashion, simplicity is key. This crop top is a versatile piece that pairs beautifully with high-waisted tunic skirts and trendy sweaters. The sleeveless cut and sophisticated straps give a touch of class to your warm weather ensembles.
To fully embrace the Y2K vibes, experiment with different styles. The halter and off-the-shoulder silhouettes of this crop top offer a nostalgic, 80s-inspired look that pairs perfectly with lace-up pieces or is perfect to layer under outerwear for a contemporary Y2K style.
The Royal Blue Y2K Crop Top is not just clothing; it's a journey into the past while staying firmly grounded in the present. Embrace the nostalgia, and let your summer fashion be a testament to the enduring charm of Y2K aesthetics.
Things to know about this Blue Y2K Crop Top before it's in the wardrobe
Effortless Elegance: The Blue Y2K Crop Top exudes effortless elegance, making it a perfect choice for those who want to stay chic and comfortable during the summer.
Versatility of Styling: This crop top seamlessly transitions from day to night, pairing beautifully with boyfriend jeans for a relaxed daytime look, or dressing up with tailored trousers for an evening out.
Retro Revival: Embrace the nostalgia of the Y2K era with this retro-inspired crop top that adds a touch of timeless style to your summer wardrobe.
Ultimate Comfort: Fashioned from resilient knit fabric, the Blue Y2K Crop Top ensures both comfort and style, making it perfect for outdoor activities or stylish eveningwear.
Activewear Appeal: This versatile crop top doubles as activewear, perfect for workouts or yoga sessions, keeping you cool and stylish during your fitness routines.
Long Sleeve Versatility: The option of a long-sleeve crop top is perfect for cooler summer evenings or when you want to add an extra layer of style to your outfit.
Halter Chic: This halter crop top features a cut that highlights the shoulders, for an appealing look that pairs with many bottom styles.
Mix and Match: Experiment with creative combinations by pairing the Blue Y2K Crop Top with jumpsuits, sandals, vests, coats, or even layering it under jackets and cardigans for different stylish looks.
Off-Shoulder Appeal: Explore the allure of the off-shoulder style with this crop top, adding a touch of romance to your summer wardrobe.
Swimwear Companion: Use it as a chic swimwear cover-up or pair it with a bandeau top for a beach-ready look that's both fashionable and functional.
Embellished Beauty: The embroidered details on the Blue Y2K Crop Top add a touch of sophistication and elevate your summer style.
Bodysuit Alternative: This crop top can also be worn as a bodysuit, providing a sleek, no-bunching look that's perfect for tucking into high-waisted skirts or trousers.
Sweater Season Continues: Keep the comfort of a sweater while staying cool in the summer by opting for a lightweight knit sweater in the form of a crop top.
Tee Time: With its versatility, this crop top can replace your traditional tee for a trendy summer look that's a notch above the ordinary.
Striped Sensation: If you're a fan of patterns, the Blue Y2K Crop Top offers a striped design that adds an element of fun and flair to your summer style.
Cropped Chic: The cropped design of this top adds a contemporary touch to your summer outfits, making it an excellent choice for fashion-forward individuals.