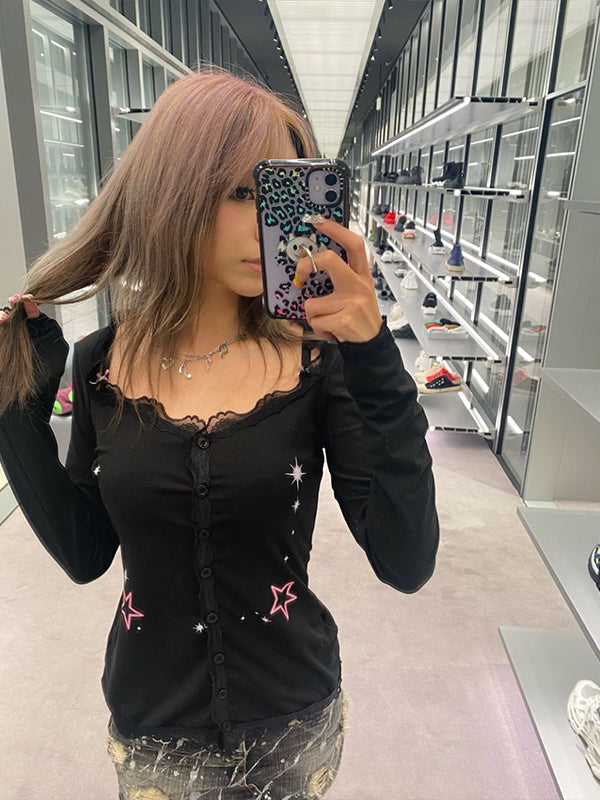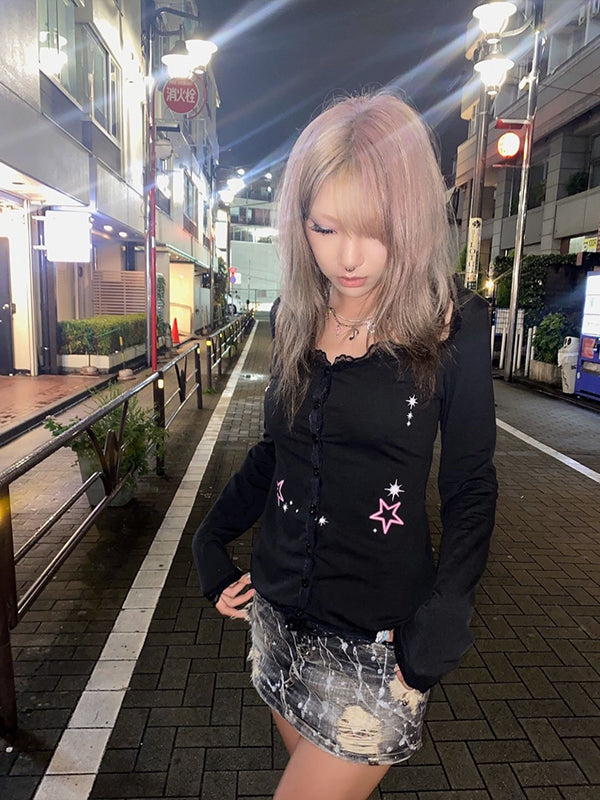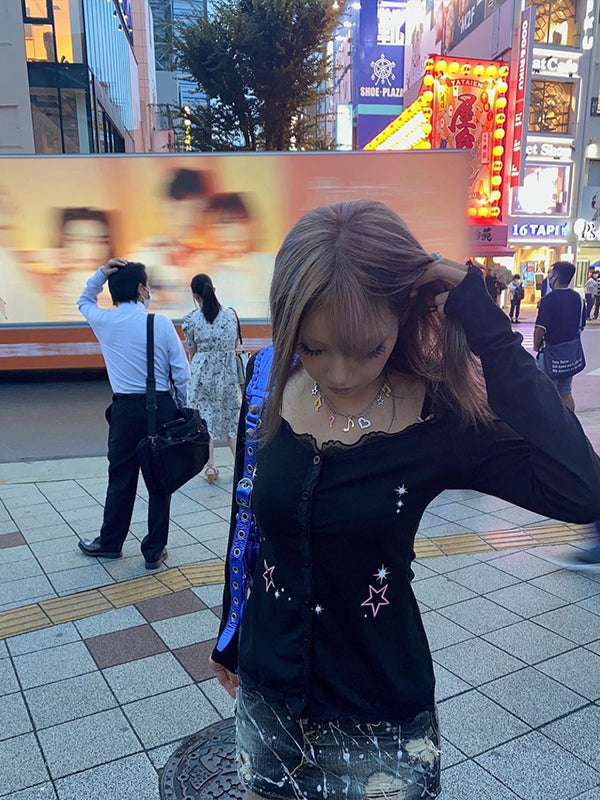 Black Cardigan Aesthetic
✔️ Free and Secure Worldwide Delivery
💜-15% off with code BLACKMONTH15
Free
shipping
Customer
service
Secure
payment
Contact
us
Rediscover the pleasures of a sweet 2000s summer with this Aesthetic Black Cardigan
Unique Edition
Reinforced Polyester
Deep comfort (ultra-soft Cotton)
Not available in physical stores
Spring/Summer Season
Effortless elegance: Styling the Black Cardigan Aesthetic for every occasion
When it comes to achieving a look that effortlessly combines comfort and elegance, the Black Cardigan Aesthetic stands out as a true wardrobe essential. Its versatility allows you to create stylish outfits for every occasion. Let's delve into how to master the art of styling this classic piece.
The Cozy Knit: A black cardigan in a fine knit is the epitome of comfort. Its softness against your skin makes it a perfect choice for those chilly evenings. Create a stylish, relaxed look with a white tee, denim jeans, and ankle boots paired with Black Cardigan Aesthetic.
Sophisticated Sweaters: Elevate your style by layering a black cardigan over a sleek sweater dress. Cinch your waist with a stylish belt to add definition, and you're ready for a night out with friends.
A black cardigan offers a traditional shape which makes it an ideal outfit choice for special occasions. Add a dress and some eye-catching jewelry and heels to create an ensemble of sophistication and sophistication.
Collar Play: Experiment with cardigans that feature a unique collar design, like a ribbed or oversized collar. This adds a touch of individuality and flair to your outfit, whether you're going to the office or a brunch date.
Outerwear Chic: A black cardigan can also serve as a transitional piece. Layer it under a jacket for added warmth and style during the colder months. The combination of a cardigan and a structured jacket creates a chic and layered effect. 
Seasonal staples: Black Cardigan aesthetic for fall, winter, and beyond
The allure of the Black Cardigan Aesthetic transcends seasons, making it a staple in every fashion-forward individual's wardrobe. Whether you're embracing the cool breeze of fall, the frosty days of winter, or the transitional periods in between, this versatile piece has you covered.
Fall Chic: As the leaves start to change and the air becomes crisper, reach for your black cardigan to layer over a sweater or a long-sleeve top. Pair it with your favorite skirts, denim pants, or even shorts, and embrace the autumnal charm.
Winter Warmth: When the temperatures drop, opt for a black cardigan with a thick knit. Its warmth and coziness will keep you snug even during the coldest winter days. Style it with oversized scarves, striped skirts, and tall boots for a chic winter ensemble.
Transitional Trends: Don't retire your black cardigan when winter ends. It's the perfect piece for those transitional months. Throw it over your dresses, crop tops, and lightweight outerwear as you move from one season to the next.
Beyond the Seasons: The beauty of the black cardigan aesthetic is that it knows no boundaries. It can be effortlessly dressed up or down, adapting to any season with grace and style. Whether you're attending a summer evening soiree or a springtime brunch, it's a versatile choice.
From runway to street: The influence of Black Cardigans in high fashion
The journey of the Black Cardigan from the fashion runways to everyday street style is a testament to its enduring influence on the fashion world. Let's explore how this timeless garment has evolved and become an iconic piece in high fashion.
Runway Renditions: Fashion designers have consistently reimagined the black cardigan, introducing new textures, cuts, and styles to the runway. From oversized silhouettes to cardigan sweaters with unique knitwear patterns, it's a favorite canvas for creative expression.
Street-Style Statements: What makes the black cardigan truly remarkable is its seamless transition from haute couture to everyday fashion. Influencers and fashion enthusiasts have embraced it, incorporating it into their daily looks, often pairing it with casual denim pants or star jeans.
Oversized Appeal: The oversized black cardigan, with its relaxed and cozy fit, has become a staple in high fashion and street style alike. It's an easy way to add a touch of sophistication to an otherwise casual outfit.
Outerwear Opulence: Black cardigans have also been used as an elegant layering piece, offering a chic alternative to traditional coats. Whether you're wearing it under outerwear for added warmth or letting it take center stage, it's a versatile choice for any fashion-forward individual.
Timeless Charm: The black cardigan's influence in high fashion is a testament to its timeless charm. It serves as a canvas for creative expression and continues to inspire fashion designers and enthusiasts alike.
From the catwalk to the street corner, the black cardigan aesthetic has revolutionized high fashion, becoming an emblem of timeless elegance and adaptability.
What you need to know about this Black Cardigan Aesthetic

Stylish Blouse Substitute: Swap your typical blouse for a black cardigan to achieve a chic and comfortable look. It's a perfect choice for those warm summer days when you want to stay cool.
Lightweight and Breezy: This cardigan is lightweight and allows for airflow, making it a suitable option for warm climates.
Sleeveless Complement: Pair it with sleeveless tops or dresses to create a fashionable contrast while offering a bit of extra coverage when needed.
Cool Summer Tees: Elevate your summer tees with a black cardigan. The combination of a simple tee with the textured elegance of the cardigan creates a well-rounded outfit.
Feminine Pullover: The black cardigan can be a great feminine alternative to the traditional pullover sweater. Its silhouette and textured details can add a hint of elegance to your summer look.
Ideal for Cool Evenings: Perfect for chic coverage on cool nights, Black Cardigan Aesthetic provides the optimal combination of fashion and warmth.
Plaid Play: Experiment with a plaid top underneath your cardigan for a classic summer style that's both comfortable and fashionable.
Casual Yet Chic Activewear: The black cardigan pairs well with activewear, making it a perfect choice for post-workout outings. Its fleece-like texture adds a cozy element to your activewear outfits.
Neckline Accent: Use your black cardigan as a backdrop to highlight a statement necklace. Its open neckline allows your accessories to shine.
Footwear Options: Combine your cardigan with various shoe styles, from sandals to stylish sneakers, for a complete summer ensemble.
Complements Denim: The black cardigan pairs effortlessly with denim pants, creating a classic combination that works for various summer occasions.
Effortless Summer Outfits: Whether you're going for a laid-back look or dressing up for a summer event, the black cardigan is a versatile piece that effortlessly enhances your summer outfits.
Women's Wardrobe Essential: A black cardigan is an essential addition to any woman's summer wardrobe, offering both versatility and a timeless, sophisticated look.