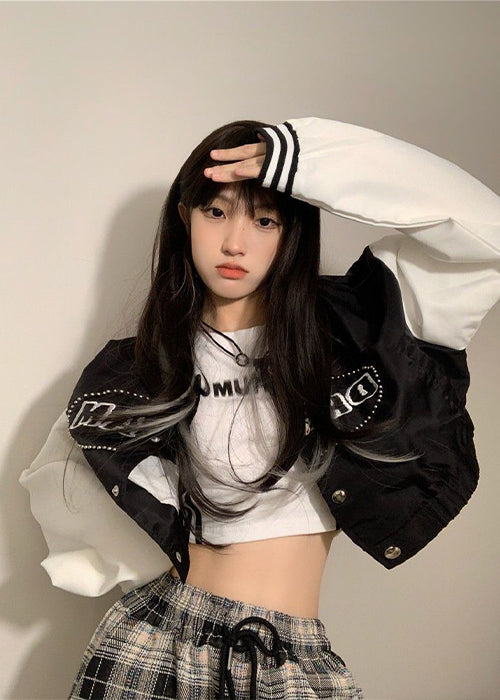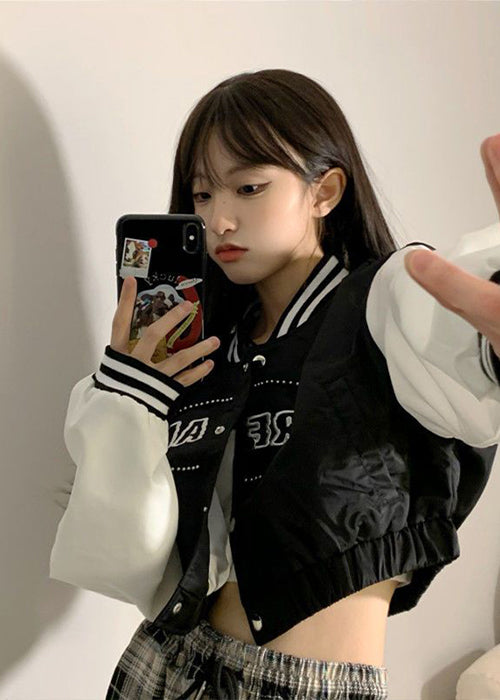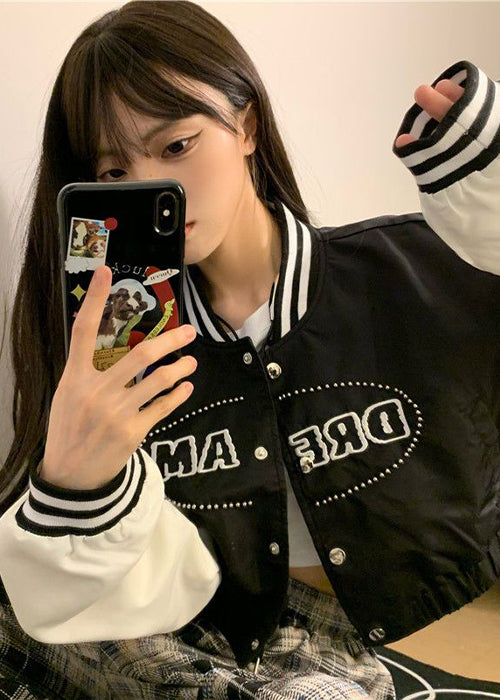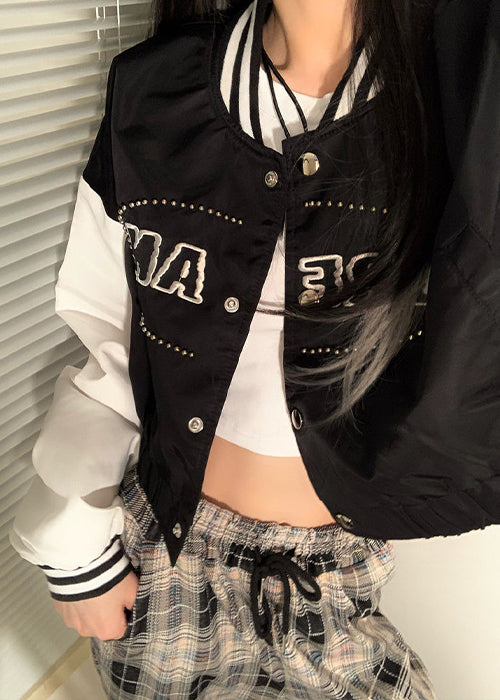 Baseball Cropped Jacket
✔️ Free and Secure Worldwide Delivery
💜-15% off with code BLACKMONTH15
Free
shipping
Customer
service
Secure
payment
Contact
us
Impose your charisma now with this relentless Baseball Cropped Jacket from the 2000s
Gives off an aura around the wearer
Unique edition (unavailable in physical stores)
Perfect for Spring/Summer 2023
Deep and spacious pockets
Ultra-flexible reinforced polyester
Top fashion picks: The versatility of the Baseball Cropped Jacket
When it comes to fashion, versatility is the name of the game, and the Baseball Cropped Jacket is a true MVP in your wardrobe. This iconic garment effortlessly transcends seasons and styles, making it a must-have for every fashion-savvy individual. Let's explore how this sporty-chic piece can be incorporated into your wardrobe, pairing perfectly with a wide range of outfits.
Denim Delight: For a casual, everyday look, pair your Baseball Cropped Jacket with denim shorts and a classic white tee. The juxtaposition of the jacket's sporty silhouette with denim exudes a cool, off-duty vibe.
Flirty Dresses: Elevate your feminine charm by throwing the jacket over your favorite summer dresses. The contrast of a flirty dress with the sporty jacket creates a head-turning ensemble.
Sweater Weather: As the temperatures drop, opt for a Baseball Cropped Jacket layered over a cozy knit sweater. This combination not only keeps you warm but also adds a touch of urban flair to your style.
Leggings Love: Embrace athleisure by teaming your jacket with high-quality leggings. The slim-fit silhouette of the jacket complements the sleek lines of leggings for an effortlessly chic look.
Skirting the Issue: Experiment with different skirt lengths, from mini to maxi, and discover how a Baseball Cropped Jacket can redefine your skirt game. Tuck in a blouse or a graphic tee, and cinch your waist for a trendy look that's ready to conquer the streets.
From casual tees to stylish cardigans, the Baseball Cropped Jacket effortlessly complements a variety of garments, offering countless styling possibilities. Its embroidered details and sporty essence make it a standout piece in your wardrobe. Don't miss out on this fashion favorite!
Baseball Cropped Jacket vs. Bomber Jacket: A fashion showdown
In the realm of fashion, the battle of the jackets is a perennial contest, and two contenders stand out: the Baseball Cropped Jacket and the Bomber Jacket. Let's delve into this ultimate face-off and decide which one truly reigns supreme in the fashion arena.
The Classic Appeal of the Bomber: The Bomber Jacket, with its ribbed collar and cuffs, exudes a timeless coolness. It pairs seamlessly with a wide range of outfits, from jeans to dresses. Its silhouette is slightly roomier, offering a more relaxed fit.
Sporty Chic with the Baseball Cropped Jacket: The Baseball Cropped Jacket, on the other hand, is a sleeker and more tailored option. Its cropped cut and snug fit give it a modern edge that's perfect for those seeking a more fitted and contemporary look.
Urban Meets Athletic: While both jackets embody an urban aesthetic, the Bomber Jacket leans towards a more laid-back, casual vibe. The Baseball Cropped Jacket, with its athletic roots, leans towards a sportier and trendier appeal.
Styling Versatility: The Bomber Jacket is known for its universal compatibility, while the Baseball Cropped Jacket is favored by those looking to make a fashion statement. It works effortlessly with a variety of garments, from plaid skirts to denim pants, adding an exciting dimension to any outfit.
Ultimately, it's up to your individual preference when considering these two distinct jackets. The Bomber Jacket provides a timeless, casual charm, and the Baseball Cropped Jacket offers a sporty-chic look that's sure to turn heads.
From the diamond to the runway: The iconic Baseball Cropped Jacket in fashion
The Baseball Cropped Jacket has come a long way from its origins on the baseball diamond. Today, it has evolved into a fashion statement that graces runways and streets alike, solidifying its place in the world of high-end fashion. Let's take a closer look at how this iconic garment has seamlessly transitioned from athletic apparel to a runway sensation.
Sporty Origins: The history of the Baseball Cropped Jacket is deeply rooted in sports, specifically baseball. Initially designed for players, it featured team logos and colors. Its cropped design allowed for ease of movement and ventilation.
Runway Revolution: Designers recognized the potential of this athletic piece as a style statement. The Baseball Cropped Jacket's transition to high fashion was marked by creative reinterpretations, with designers experimenting with different fabrics, colors, and details.
Versatile Wardrobe Essential: This jacket has found its place in contemporary fashion for its versatile nature. It can be paired with a wide range of garments, from skirts to denim pants, elevating any ensemble with its sporty-chic vibe.
Embroidered Elegance: One of the standout features of the Baseball Cropped Jacket in high fashion is its exquisite embroidered details. These intricate designs elevate the jacket's aesthetic, transforming it into a true runway piece.
The Baseball Cropped Jacket is a wardrobe essential that demonstrates its long-term influence in the fashion world. It displays a combination of style and athleticism that is difficult to replicate, gaining traction both on the baseball diamond and in the fashion world.
What you need to know about this Baseball Cropped Jacket

Sporty Chic: The Baseball Cropped Jacket exudes a sporty-chic aesthetic, making it the ideal choice for those who want to combine athleticism with fashion.
Skinny Silhouette: The jacket's slim-fit design complements your body's natural curves, enhancing your overall look with a flattering and sleek profile.
Striped Style: Many Baseball Cropped Jackets feature stylish stripes that add a dynamic and visually appealing element to your outfit.
Seasonal Versatility: This outerwear piece adapts to various seasons, making it a year-round fashion staple that effortlessly transitions between spring, summer, and autumn.
Cozy Comfort: Crafted from soft and comfortable materials like fleece and spandex, the Baseball Cropped Jacket offers a cozy and snug feel that keeps you warm in cooler weather.
Long-Sleeve Sophistication: The long-sleeve variation of this jacket is perfect for a polished and elegant appearance while maintaining a hint of casual charm.
Polished Polo Pairing: Layer your Polo shirts with a Baseball Cropped Jacket for a polished yet relaxed ensemble that's perfect for multiple occasions.
Crop-Top Elegance: Elevate your crop-top game by pairing it with a Baseball Cropped Jacket, creating a trendy and stylish look that's perfect for a night out or casual outings.
Women's Wardrobe Essential: This jacket is a must-have for every woman's wardrobe, offering endless possibilities for mix-and-match outfits.
Cardigan Alternative: Swap out your traditional cardigan for a Baseball Cropped Jacket to infuse your attire with a youthful and energetic vibe.
Layering Mastery: The Baseball Cropped Jacket excels in layering, allowing you to experiment with different garments like dresses, blouses, and more to create unique and fashion-forward ensembles.
Iconic Outerwear: With its iconic design and athletic roots, the Baseball Cropped Jacket is a standout piece that brings a dash of nostalgia to modern fashion.
Adaptable Coat: It's not just a jacket; it's a versatile coat that's perfect for a wide range of settings, from casual outings to semi-formal gatherings.