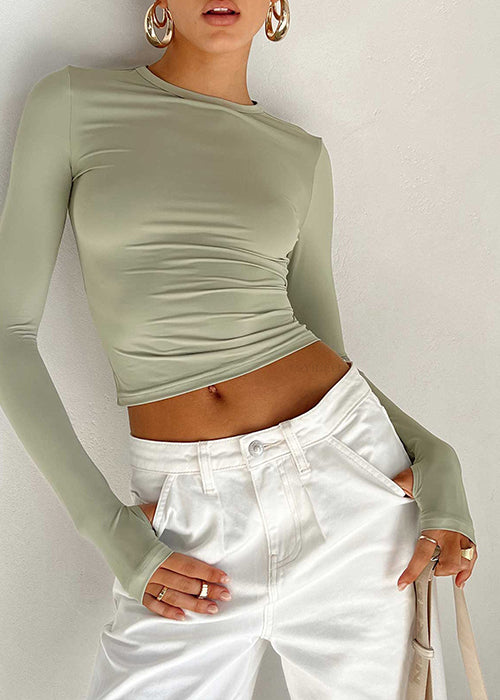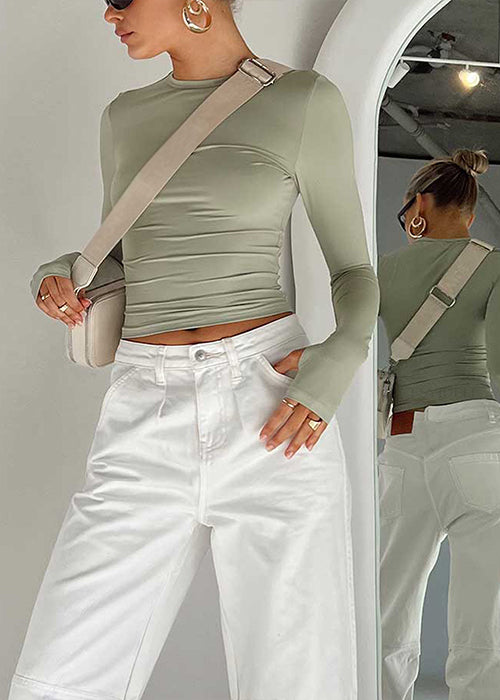 2000s Long Sleeve Top
✔️ Free and Secure Worldwide Delivery
💜-15% off with code BLACKMONTH15
Free
shipping
Customer
service
Secure
payment
Contact
us
Adopt a look that's both stunning and original with this 2000s Long Sleeve Top
Caresses the skin, pleasant to wear
Sober color to match any outfit
Soft, flexible clothing
Spring/summer collection
Eye-catching vintage 2000s ambience
Fashion flashback: Unveiling the timeless Charm of 2000s Long Sleeve Tops
In the world of fashion, some trends come and go, but others stand the test of time, and 2000s Long Sleeve Tops are certainly among the latter. These sweaters and long-sleeve tops bring with them a sense of nostalgia and timeless charm that is as relevant today as it was back in the early 2000s.
The turn of the century brought about a range of sartorial choices; from bootcut jeans to tees, knits to stripes, the 2000s offered fashionistas a wealth of options. The emergence of different silhouettes enabled individuals to experiment with their clothing; from blouses to sleeveless and slim-fit garments, everyone was sure to find the ideal top.
Select nostalgic elegance: The revival of 2000s Long Sleeve Tops
The fashion world has a way of revisiting its past, and in recent years, we've seen the glorious revival of 2000s Long Sleeve Tops. These casual and chic tops are making a comeback, and for good reason.
Experience the 2000s fashion trend with these Long Sleeve Tops. Perfect for layering with jackets, sweaters, and other knit textures for a unique look. The stripe patterns, woven styles, and slim-fit designs offered endless possibilities for crafting a unique look.
What's even more exciting is the resurgence of pastel hues and plaid patterns. These Long Sleeve Tops are now an essential part of any modern apparel collection. Explore a variety of Long Sleeve Tops, including tunics and slim-fit styles, to find the one for you.
Vintage vibes: Why Cyber Y2K Clothes and 2000s Long sleeve tops are back in the streets
In the world of fashion, trends have a remarkable way of coming full circle. The 2000s, with their distinctive blend of cyber aesthetics and nostalgia, are experiencing a revival like never before. One prominent element making a comeback is the iconic long sleeve tops, which have found their way back into our wardrobes.
These versatile pieces, from body-hugging tops to oversized options, are taking the fashion scene by storm. From trendy actiwear to stylish hoodies, the Y2K sleeves have captured the imagination of fashion-conscious individuals worldwide.
The early 2000s top styles have returned, making Y2K's fashion irresistible. Bold graphic t-shirts, with their vibrant colors, striking prints, and nostalgic references, have become a staple in modern wardrobes, serving as a centerpiece in channeling those Cyber Y2K vibes. Additionally, the revival extends to jewelry, with chunky necklaces, statement earrings, and quirky rings becoming essential accessories that add personality and individuality to any outfit.
But the Y2K influence doesn't stop at clothing and accessories. Statement-making watches have also made a triumphant return, combining bold design with functionality. Meanwhile, nail art has embraced the era's flamboyant style, offering individuals a canvas for self-expression with vibrant colors, intricate designs, and metallic accents.
This resurgence of the 2000s fashion celebrates a unique blend of nostalgia and futurism, allowing fashion enthusiasts to create a style narrative that's as fresh as it is reminiscent of the past.
What you need to know about this 2000s Long Sleeve Top
Versatile Wardrobe Staple: The 2000s Long Sleeve Top is a versatile addition to your wardrobe, seamlessly transitioning from summer to fall. This versatile piece can be dressed up or down, making it a perfect choice for various outfits.
Comfortable Cotton Perfection: This top is made with 100% cotton for unbeatable comfort. Its lightweight fabric is breathable, perfect for hot summer days and keeping you cozy on cooler autumn evenings.
Stylish and Figure-Flattering: With a touch of spandex for a comfortable stretch, the 2000s Long Sleeve Top is designed to flatter your silhouette. It enhances your shape, making it a fashion-forward choice for women of all body types.
Affordability Meets Fashion: For wallets conscious shoppers, this top offers an affordable way to stay on-trend while maintaining quality and style. It's a cost-effective addition to your seasonal wardrobe.
Day-to-Night Transition: The 2000s Long Sleeve Top can effortlessly take you from daytime activities to evening events. Pair it with casual shorts or jeans during the day, and dress it up with a skirt or accessories for a night out.
Sleepwear Versatility: This top can double as stylish sportswear for those warm summer nights or cool fall evenings. Its comfort and style ensure a good night's rest.
Layering Essential: As the temperature begins to drop in the fall, this top serves as the perfect layering piece. It can be worn under vests or over a camisole for added warmth and style.
Crop-Top Chic: Embrace the trendy vibe of the early 2000s with crop-top options. The 2000s Long Sleeve Top offers a modern twist on this iconic style, allowing you to stay fashionable during both seasons.