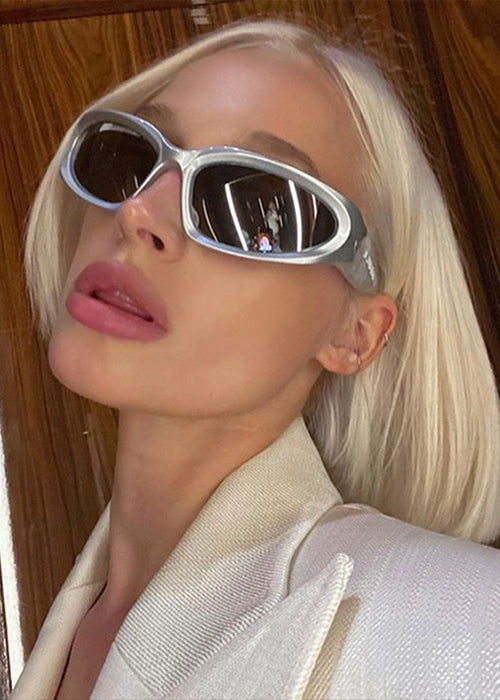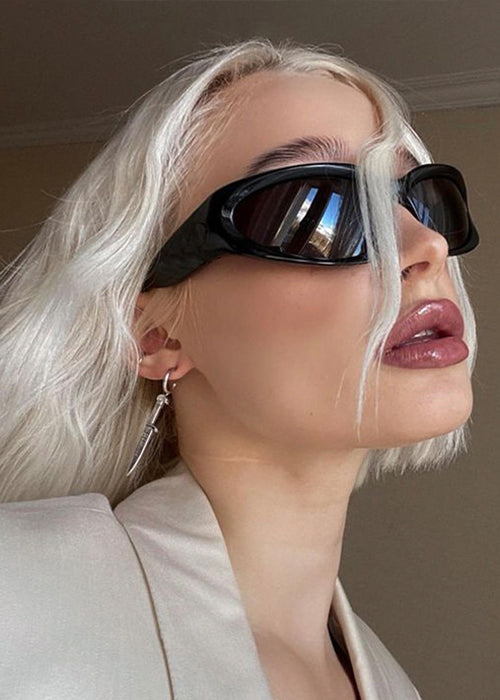 Vintage Y2K Sunglasses
✔️ Free and Secure Worldwide Delivery
💜-15% off with code BLACKMONTH15
Free
shipping
Customer
service
Secure
payment
Contact
us
Cover your pupils with a 2000s filter thanks to these Vintage Y2K Sunglasses
Protects eyes from UV rays (UV400)

Gives a futuristic look

Not available in stores

Consolidated polycarbonate

Temple

:

125mm
Retro Revival: Vintage Y2K Sunglasses making a fashion comeback
As a fashion expert, I'm delighted to take you on a journey into the resurgence of vintage Y2K sunglasses. The Y2K era was all about bold statements, and these sunglasses were no exception. They're back in the limelight, and for good reason. Uncover the unique qualities of vintage Y2K sunglasses, contextualizing the most essential characteristics that compose their iconic allure.
The Y2K sunglasses boast a distinctive silhouette, with options ranging from oversized sunglasses to square sunglasses. These glasses boast a versatile design suitable for a variety of facial shapes, including angular and round.
For female eyewear-lovers of the Y2K era, the selection of styles was impressive, ranging from glamorous cat-eye designs to classic round frame silhouettes. These specs not only served a practical purpose - they helped complete an ensemble, exuding a certain charm.
Not to be left out, men's sunglasses in the Y2K era featured bold, masculine designs like the classic aviator sunglasses and the trendsetting clubmaster styles. They were the go-to choice for those who wanted to exude confidence and style.
Vintage Y2K Sunglasses were crafted with multiple lens types, including polarized for glare reduction, mirrored for a fashionable reflective effect, and gradient for a chic polished look. All this allows them to be suitable for countless occasions.
Frames varied, from acetate for a glossy effect, metal for contemporary style, to rimless for a subtle look. If you were looking for a pair of designer sunglasses from the Y2K era, you'd be spoilt for choice. The original wayfarer style was iconic, and black sunglasses were a timeless classic.
The Y2K sunglasses weren't just a fashion statement; they also provided essential UV protection to shield your eyes from the sun's harmful rays. With an emphasis on matte finishes and tortoise patterns, these sunglasses offered a blend of style and functionality.
Whether you're a fan of the Y2K era, a lover of all things vintage, or simply someone seeking an eyewear upgrade, the resurgence of vintage Y2K sunglasses offers something for everyone. Modern fashionistas will appreciate the combination of retro appeal and current style offered by these iconic sunglasses.
2000s Nostalgia: Take a kiss to the past with these Vintage Sunglasses
Step into the time machine and journey back to the 2000s, an era known for its iconic fashion and unforgettable trends. Among these trends, the vintage sunglasses of the 2000s stand out as a symbol of nostalgia and style. These eyepieces are more than just eyewear; they're a kiss to the past, and here's why you should embrace them once again.
The Y2K era was marked by its love for all things shiny and reflective, and these sunglasses embodied that spirit. Frames and lenses of the Vintage Y2K Sunglasses boasted a polished shine, enhancing visibility and making a fashionable statement. The lenses came in a multitude of shades and shapes, adding a distinguished flair to the wearer's ensemble.
In the 2000s, eyewear wasn't just about sunglasses; it was also a period when eyeglasses became a stylish accessory. Think thin metal frames and quirky shapes that added a touch of personality to your ensemble.
For those who wanted to stand out, the polarized sunglasses were the go-to choice. These lenses reduced glare and added an element of sophistication to your outfit. The unisex nature of these vintage sunglasses made them a versatile accessory that could be shared among friends and partners, transcending gender boundaries.
Fashion-forward individuals embraced the matte finish, giving their sunglasses a modern and chic touch. This was a departure from the shinier styles of the past, showcasing the evolution of eyewear fashion. While black sunglasses were a classic choice, the 2000s also introduced a wide range of frame colors and patterns, from bold and vibrant to subtle and tortoise.
The Y2K era was all about individuality and freedom of expression. These vintage sunglasses allow you to take a kiss to the past, infuse a dose of nostalgia into your style, and make a bold fashion statement. These vintage Y2K sunglasses offer a timelessly stylish look for fans of the 2000s or those new to the trend.
Sunglasses Spotlight: The hottest trends in vintage 00s eyewear
Sunglasses have always been more than just eye protection; they're a fashion statement that can elevate your entire look. When it comes to vintage-inspired eyewear, there's a rich tapestry of styles and trends that are making a comeback. Let's shine the spotlight on the hottest trends in this eyewear revival, showcasing the essential keywords that define their fashionable charm.
Oversized sunglasses are an iconic choice that dominated the 2000s. These frames not only provided excellent sun protection but also added a touch of glamour to your outfit. Featuring an oversized silhouette, Vintage Y2K Sunglasses were popular among the celebrity and fashion crowds. The cat-eye sunglasses from the 00s are another trend that's regaining the spotlight. These stylish frames featured upswept outer edges, creating a chic and alluring look. They were a symbol of femininity and sophistication.
For those who preferred a more rounded shape, round sunglasses were the go-to choice. These frames offer classic charm and a hint of vintage fashion to your look. Polarized eyewear experienced a surge in popularity and is currently undergoing a resurgence. These lenses reduce glare, making them perfect for outdoor activities, while also providing a sense of refinement
Summer elegance with Vintage Y2K Sunglasses: Timeless eyewear for every season
Timeless Style: Vintage Y2K Sunglasses provide an evergreen style that works throughout the year, no matter the season, temperature, or time.
Polarized Sun Protection: Polarized lenses offer superior protection from the sun's rays, providing comfort and safety, perfect for outdoor summer activities.
Futuristic Flair: These sunglasses boast a futuristic and avant-garde design that adds a touch of sophistication and flair to your outfit, setting you apart as a fashion-forward individual.
Versatile Eyepiece: Vintage Y2K Sunglasses offer unisex appeal, making them a great option for couples or individuals alike.
Mirror Lens Appeal: The mirror lenses in these sunglasses not only add a trendy element but also provide extra sun protection by reflecting sunlight, making them perfect for sun-soaked summer days.
Rectangular Sophistication: The rectangular shape of these sunglasses exudes sophistication and modernity, offering a stylish look that complements various face shapes.
High-Quality Materials: Crafted from quality materials such as metal and polycarbonate, these sunglasses are durable and built to withstand the rigors of all seasons.
Jewelry for the Eyes: Just as you adorn yourself with jewelry and accessories, these sunglasses serve as exquisite jewelry for your eyes, adding an extra layer of style to your summer wardrobe.
Matching Versatility: Vintage Y2K Sunglasses can be easily paired with a range of outfits, from summer shorts and tops to winter jackets and hats, offering a flexible and stylish accessory for all seasons.
Designer-Level Elegance: With their unique and chic design, these sunglasses exude designer-level elegance, ensuring you look your best regardless of the season.
Fashion-Forward Statement: Wearing Vintage Y2K Sunglasses is more than just shielding your eyes from the sun; it's a fashion-forward statement that speaks volumes about your style and personality.
Optical Clarity: The optical quality of the lenses ensures that your vision remains clear and comfortable, making them a practical choice for eyewear, even beyond the summer months.
Elegant Accessories: These vintage Y2K sunglasses are a stylish addition to any accessory wardrobe, elevating your look with added elegance.
Enhanced Sunnies: These sunglasses are not just any sunnies; they are enhanced sunnies that add an extra layer of chic to your look, whether you're wearing them for a summer stroll or a winter adventure.
Wide Range of Colors: Vintage Y2K Sunglasses are available in various colors, including black, metal, and more, ensuring you find the perfect shade to match your seasonal outfits.