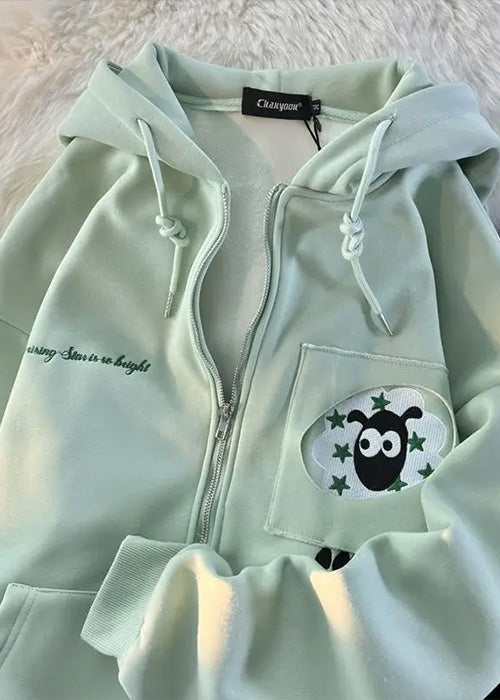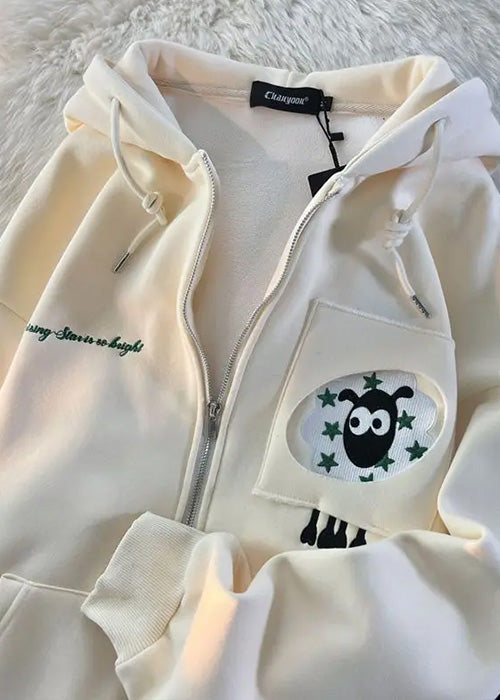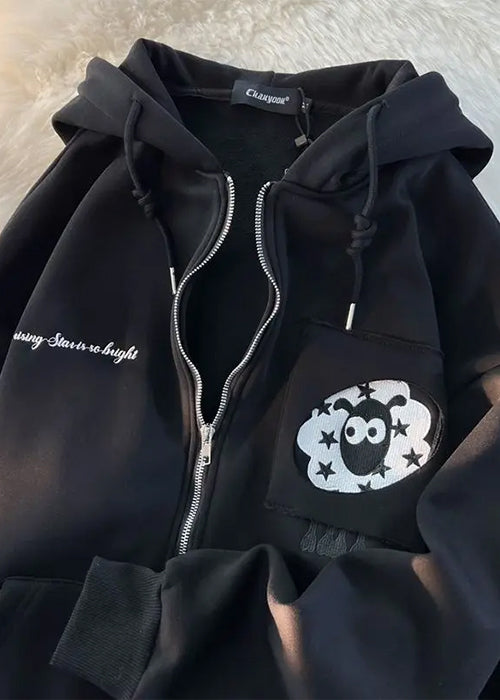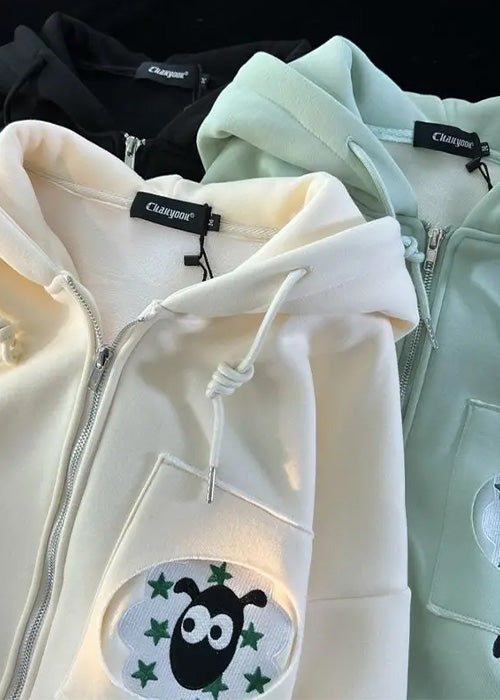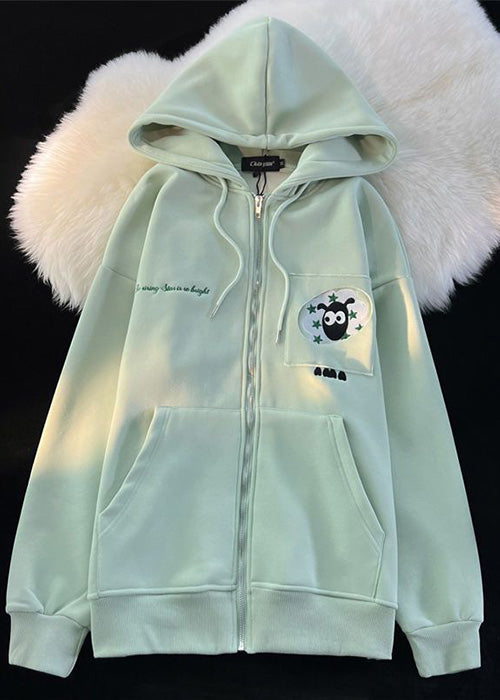 Cyber Y2K Zip Up Hoodie
✔️ Free and Secure Worldwide Delivery
💜-15% off with code LASTMONTH15
Free
shipping
Customer
service
Secure
payment
Contact
us
Add a personal touch to your day's outfits with this wearable Cyber Y2K Zip Up Hoodie
Autumn and winter selection
Reinforced metal (synthetic fiber)
Look bookable online only (Oversized Hoodie)

Keeps you warm and caresses your skin
Attracts attention and admiration
The Ultimate Style Guide: Rocking the Cyber Y2K Zip Up Hoodie in 2020s
Welcome to the fashion forefront, where activewear meets nostalgia in the form of the iconic Cyber Y2K Zip Up Hoodie. As we navigate the 2020s, this statement piece transcends time, blending the best of Y2K style with contemporary flair. Let's dive into the ultimate style guide for mastering the art of rocking this timeless wardrobe essential.
The full zip hoodie design of the Cyber Y2K makes it an ideal choice for both casual outings and active pursuits. Elevate your look by pairing it with a sleek pair of bottoms, whether it's classic denim or trendy joggers. The hoodie's polyester construction ensures durability while providing a touch of modernity.
Indulge in the Y2K aesthetic by opting for a Cyber Zip Up Hoodie with striped detailing. The characteristic kangaroo pockets not only add a nostalgic touch but also provide functional elements, making this hoodie a stylish and practical choice for the fashion-forward individual.
In the world of Y2K fashion, the term "heavyweight" is synonymous with comfort. The Cyber Y2K Zip Up Hoodie's heavyweight fleece ensures you stay cozy and warm, making it the perfect companion for chilly evenings or outdoor adventures.
Explore various layering options with the Cyber Y2K Zip Up Hoodie. Whether you prefer pairing it with a classic crewneck sweatshirt for a laid-back look or throwing it over your favorite tee, the possibilities are as endless as your style imagination.
Cyber Y2K Zip Up Hoodie: A Contemporary Twist on Millennial
Unveiling the Cyber Y2K Zip Up Hoodie a garment that seamlessly fuses the nostalgia of the past with a contemporary twist for the millennial fashion enthusiast. Let's explore how this wardrobe staple has evolved to become a must-have item for those who appreciate the perfect blend of style and comfort.
The 00s Zip Up Hoodie redefines fleece pullover hoodies with a modern touch. Crafted from high-quality materials, it effortlessly combines the comfort of fleece with a contemporary aesthetic, making it an essential piece for the modern millennial wardrobe.
Elevate your style with Cyber Y2K's attention to detail. The inclusion of ribbed features adds texture and dimension, while carefully crafted embroidered accents contribute to the hoodie's unique charm. These design elements ensure that every piece is not just a garment but a statement of individuality.
The Cyber 2000s Zip Up Hoodie transcends traditional gender norms, offering a versatile range for both women and men. Embrace inclusivity in fashion as you explore the diverse styles and fits available, ensuring that everyone can enjoy the contemporary twist this hoodie brings to their wardrobe.
Unveiling Cyber Y2K Zip Up Hoodie: Nostalgia Meets Fashion Revolution
Step into a world where nostalgia takes center stage in the fashion revolution—the Cyber Y2K Zip Up Hoodie. As we unveil this iconic piece, witness the seamless fusion of past memories and cutting-edge style, creating a garment that stands as a testament to the evolution of fashion.
Embark on a journey through time as we explore how the Zip Up Hoodie has transformed from a classic Y2K staple to a contemporary must-have. The thoughtful design updates ensure that while nostalgia is honored, the hoodie remains relevant in the fast-paced world of modern fashion.
This isn't just a hoodie; it's a symbol of apparel innovation. The Cyber Y2K Sweatshirt Hooded goes beyond the basics, incorporating features like a functional drawstring and a variety of cuts, from the classic crewneck to the trendy hooded sweatshirt, offering options that cater to every style preference.
Express yourself with the Cyber Y2K Zip Up Hoodie's diverse color palette and captivating patterns. Whether you prefer a solid hue for a minimalist approach or opt for a bold, striped design, this hoodie opens up a world of possibilities for fashion enthusiasts seeking to make a statement.
Experience the next level of comfort with the Zip Up Hoodie's innovative take on fleece. The incorporation of advanced materials ensures not only a soft and cozy feel but also a commitment to sustainability, making it a conscientious choice for the fashion-conscious individual.
Reasons to Embrace the Cyber Y2K Zip Up Hoodie
All-Season Appeal: The Cyber Y2K Zip Up Hoodie is meticulously crafted to provide optimum comfort and style throughout the year. Its adaptable design ensures you stay on trend, no matter the season.
Versatility Redefined: This hoodie effortlessly transitions from casual wear to activewear, making it an ideal choice for a myriad of occasions. From loungewear to street style, the Cyber Y2K Zip Up Hoodie is a versatile masterpiece.
Unparalleled Comfort in Fleece: Immerse yourself in the plush luxury of fleece, as the hoodie combines the warmth of fleece jackets with the trendy appeal of a hooded sweatshirt. The result? Supreme comfort without compromising style.
Sleek Black Aesthetic: The Cyber Y2K Zip Up Hoodie comes in an effortlessly chic black hue, embodying the epitome of elegance. Elevate your style with this essential black hoodie, a classic wardrobe staple.
Innovative Track Jacket Elements: Drawing inspiration from track jackets, this hoodie incorporates cutting-edge design elements that add a sporty flair to your look. Stay ahead of the fashion curve with this modern twist.
Fashionable Vests and Short-Sleeve Fusion: Embrace the fusion of style by incorporating elements of vests and short-sleeve aesthetics. The Cyber Y2K Zip Up Hoodie brings a unique blend that sets you apart from the fashion crowd.
Hooded Fleece Excellence: Revel in the comfort of a hooded fleece, combining functionality with fashion. The hoodie's hooded fleece design ensures you're prepared for any weather while making a bold style statement.
Effortless Pull-Over Convenience: Featuring the convenience of a pull-over, the Cyber Y2K Zip Up Hoodie makes dressing a breeze. Effortless style meets practicality in this essential wardrobe piece.
Chic Sweatshirt Fusion: Experience the perfect fusion of style and comfort with the Cyber Y2K Hoodie, seamlessly blending the casual charm of sweatshirts with a touch of chic sophistication.
Diverse Style Range: Whether paired with tees, sweatshirts, jackets, or worn as a standalone piece, the Cyber Y2K Zip Up Hoodie complements various styles effortlessly. A testament to its adaptability and timeless appeal.
Tailored Fit for Women: Designed with the modern woman in mind, the Cyber Y2K Zip Up Hoodie boasts a tailored fit that accentuates the feminine silhouette. Celebrate your individuality in style.
Stylish Long-Sleeved Statement: Elevate your look with the Cyber Y2K Hoodie's long-sleeved sophistication. Make a bold fashion statement while staying cozy and warm in any setting.
Premium Fabric: Crafted from a blend of high-quality spandex and cotton fleece, the Cyber Y2K Zip Up Hoodie guarantees a luxurious feel against your skin. Embrace premium comfort with every wear.
Easy Maintenance with Machine-Wash: The convenience of machine-wash adds practicality to the Cyber Y2K Hoodie. Effortlessly maintain its pristine condition, ensuring longevity without compromising on style.
Pullover Sweatshirt Elegance: Revel in the elegance of a pullover sweatshirt, elevated by the Cyber Y2K Hoodie's design. Redefine casual chic with this statement piece.